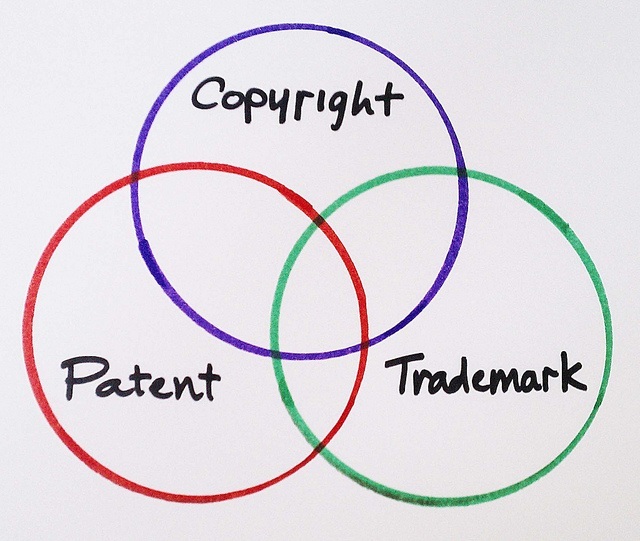 Editor's Note: This post is co-written by Aaron Capron and Robert Wells, Partners at global IP law firm Finnegan. Aaron Capron focuses his practice on patent prosecution, post-grant considerations, portfolio management and pre-litigation strategies. Rob Wells focuses his practice on patent litigation, patent prosecution, portfolio management, and client counseling involving various intellectual property issues.
One of the fastest growing segments of startups is digital health startups, creating cutting-edge innovations that improve the management and operations of hospitals and clinical practices, and the effectiveness of patient care. Given the steady increase in competition in this field and the need for startups to obtain venture capital funding, these digital-health companies should protect their innovations through intellectual property.
But many obstacles hinder the acquiring of such protection. On the business side, startups have limited resources and are pre-occupied by the huge day-to-day essential efforts of starting the new company. On the legal side, recent federal court decisions and corresponding U.S. Patent and Trademark Office (USPTO) policies have made acquiring protection for certain types of software-related technologies more difficult to obtain. Facing these obstacles, digital-health companies can struggle to develop meaningful protection for their innovations.
Despite these obstacles, digital-health companies can implement strategies for developing an effective intellectual property portfolio to cover its innovations, a few of which are listed below.  
Perform an invention audit
Startups usually face budget constraints and evolving products and technologies that make it expensive to pursue protection for each innovation. But performing an invention audit to identify all innovations in use or in development can direct and help startups determine which innovations warrant IP protection. After identifying each innovation, companies can then score innovations according to criteria like: 
(1) Whether the innovation provides a competitive advantage;
(2) How different the innovation is from known practices;
(3) The ease of reverse engineering the innovation;
(4) The ability to detect whether competitors copy the innovation; and
(5) The value of the innovation to competitors, business partners, or possible licensees.
Using these scores, the companies derive a cumulative score for each innovation, compare the values of its innovations, and pursue patent protection for those with the highest cumulative scores. Startups can protect lower scoring innovations as trade secrets or not protect them at all.
Don't forget about your design
Along with technical innovations, digital-health companies often make considerable investments in the design of its products, including the user interfaces, screens, icons, fonts, animations, and other enhancements for the overall appearance of their products. These companies should consider protecting the look and feel of its products using design patents.  
As shown in the figures below from two design patents that protect the Apple Watch, design patents protect the aesthetic aspects of a product, including both its physical and user interfaces designs.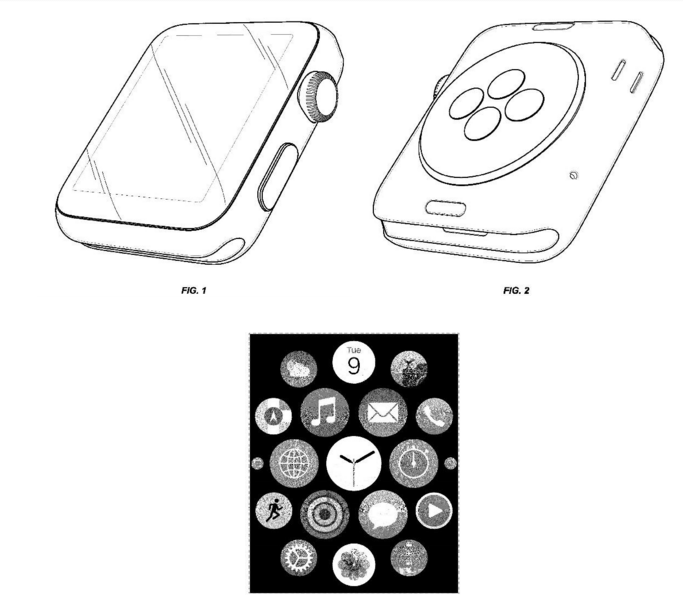 Protecting both the design and the underlying technology of the product provides companies with the opportunity to protect the overall user experience of a product. The cost of acquiring a design patent is also usually an order of magnitude less than the cost of a typical utility patent.  
When pursuing patent applications, focus on underlying technology—not content.
Many patent applications filed today focus on content, potentially causing problems. They focus on the data used (e.g., healthcare-related data)—as opposed to the underlying technology that processes the data.  
Focusing on content could make it substantially harder to get an issued patent. When it's filed, the USPTO determines which technology area an application belongs in.  As shown in the chart below, this classification can significantly affect the probability of obtaining a patent.  The likelihood of obtaining a patent for applications classified as e-commerce plummets from between 60-75%, to below 10%.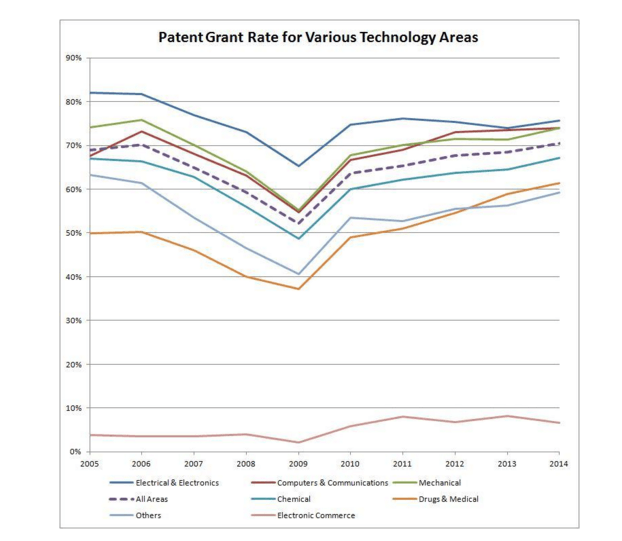 Digital-health startups should take note since the USPTO classifies some digital-health applications to its e-commerce group. To avoid this problem the specification and claims should focus on the underlying technology—rather than the content being handled by the product. While there's no way to guarantee a technology classification, this method can dramatically increase the likelihood that the application is assigned to a more patent-friendly technology area.
For disruptive products having multiple innovations, consider filing an omnibus patent application.
Another effective strategy for preserving patent rights is to file an "omnibus patent application"—a single utility patent application that discloses multiple innovations of a product (click here for an example). Omnibus applications claim one disclosed innovation, and continuation applications claim the others.  
Omnibus patent applications provide digital-health companies with more flexibility than typical "single innovation" applications, allowing them to pursue claims that cover multiple functionalities—possibly even a competitor's forthcoming products—as products are developed in the quickly evolving digital-health marketplace.  
Conclusion  
These are just a few possible strategies to consider. These and other strategies can be tailored to help develop successful growth businesses, protecting a digital health startup's R&D investments.
Opinions expressed by HIT Consultant Contributors are their own.