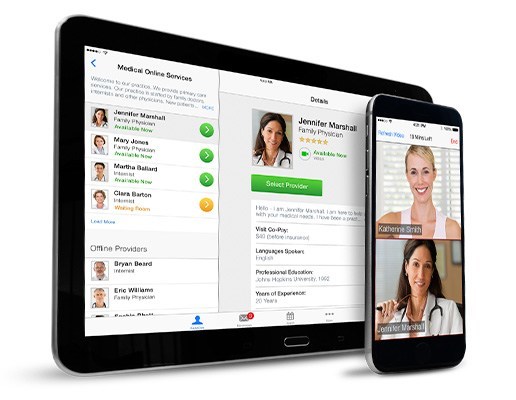 Amwell, American Well's consumer-facing mobile app for live, online doctor visits, is the #1 most downloaded telehealth app for the second year in a row. According to App Annie, a market intelligence leader in app analytics revealed that Amwell was the most popular telehealth app of 2014 and 2015 in the U.S., based on combined iOS and Google Play downloads1.
The telehealth app gives people the ability to see a doctor of their choosing by video, in less than three minutes on average. Amwell offers access to U.S. board-certified and telehealth-trained doctors, psychotherapists and registered dietitians. Amwell can be accessed from a mobile device – including smartphones and tablets – or a desktop computer.
In addition to connecting people with doctors for high-quality medical care, telehealth apps like Amwell save people time and money.  A recent Harvard Medical School study  found the average total visit time for an in-person medical visit is 121 minutes, including 37 minutes of travel time and 84 minutes in the clinic waiting and filing paperwork.  Of those 84 minutes, only 20 are spent face-to-face with the doctor.  Translated into money, the total productivity cost of 121 minutes is about $43 lost to the individual.
This time spent traveling and waiting is in addition to the average 19 days wait for an in-person, scheduled doctor appointment.
Key features of Amwell's telehealth app includes: 
– A convenient, integrated service: Consumers can download Amwell at no cost, for a live, face-to-face consultation with a board-certified physician. Physicians on Amwell have access to consumers' health insurance information, medical images and preferred pharmacy for immediate prescribing if needed.
– Immediate access to care: Other telehealth services have a "call back" function that requires consumers to wait to hear back from an operator before being connected to an available doctor. Amwell offers immediate access to available doctors online – and average wait time for an online visit is 2-3 minutes.
– Provider choice: Consumers can see which doctors are available and choose an available doctor based on their profile information – which includes their photo, name, and area of specialization (such as women's health or children's health).
– Video-based visits: Unlike telephone-based telehealth services, consumers using Amwell can participate in a two-way video visit with a doctor that – much like FaceTime or Skype – is more conducive to evaluating more complex cases that require some physical or behavioral evaluation.
– Secure, private consults: Amwell is compliant with regulatory requirements like HIPAA that govern the secure transmission of patient health information online.