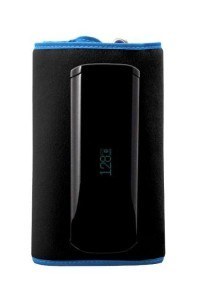 Connected health and biometric measurement devices and services provider A&D Medical is unveiling their new line of  LifeSource UltraConnect Wireless upper arm and wrist blood pressure monitors.With a sleek, streamlined profile, the new wrist and upper arm wireless blood pressure monitors represent the launch of the first products in a new line of connected health devices that will expand the company's family of medical-grade and consumer health monitoring devices. 
LifeSource UltraConnect Blood Pressure Monitors
The new LifeSource UltraConnect blood pressure monitors offer an unmatched set of features and capabilities including:
– A sleek, tubeless design that slips easily on the wrist or arm;
– Light-weight style so users can effortlessly transport the device wherever they go, ensuring they can consistently track and share blood pressure readings;
– IntelliSense technology which allows the company's A&D Connect App to automatically detect and connect to the monitor for a seamless user experience;
– An offline, stand-alone operation, allowing for the subsequent transfer of up to 100 readings to the A&D Connect app at a later time;
– A bright OLED display to provide illuminated feedback of measurement results; and
– Multi-user support functionality for 4 or more people.
As with existing A&D Medical devices, users will be able to operate the UltraConnect blood pressure monitors with their mobile device using the company's free companion app – A&D Connect – designed to enhance the end-user experience with engaging and easy-to-use features such as graphing, trending, unlimited memory, reminders, and goal setting. 
Designed for simplified monitoring and data transfer, the new LifeSource UltraConnect provides even more robust compatibility with both iOS and a wider range of Android devices.
That data is transmitted through the user's smartphone to his/her personal WellnessConnected account on A&D's secure cloud, and can then be shared with physicians, other care givers, and loved ones via email, social media, or through an A&D partner API.
The new LifeSource UltraConnect blood pressure monitors will be available in the summer of 2016.