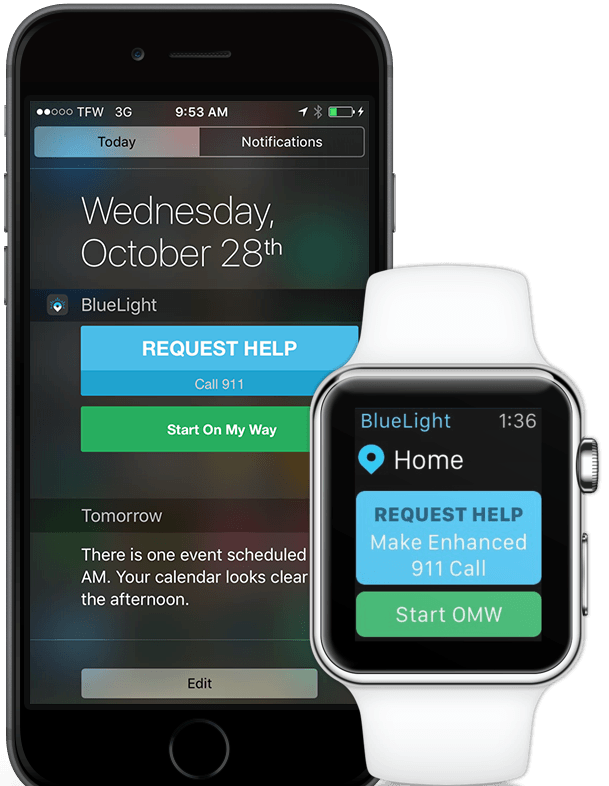 Safety toolkit for the digital age provider BlueLight has launched a new Apple Watch app for 911 emergency response that allows users to contact emergency services and share their location with contacts in seconds. 
70% of 911 Calls Comes from Mobile Phones
Today, more than 70% of 911 calls come from mobile phones, but according to USA Today, 911 may have as low as a 10% chance of getting a fix on caller location ranges.  Between the margin of error and the high possibility of routing the call to the wrong dispatcher, response times can be delayed by several minutes, at a deadly cost. A study conducted by the FCC estimates that improving location accuracy would save roughly 10,000 lives per year. 
How It Works
To address this location issue, BlueLight uses an IP-based system to pinpoint the location of emergency calls. By routing the call to the correct dispatch center and, in hundreds of locations across the country, delivering the caller's current location to the dispatcher automatically, BlueLight can cut down response times.
The technology also provides for callers who, in a medical emergency, may not be able to speak their location to the dispatcher. Now, BlueLight for Apple Watch can close the response time gap even further by allowing the wearer to call for help in seconds, even when not within easy reach of a phone. 
The Apple Watch opens up data points and information about the user that can be digitized and structured to advance and progress legacy systems and processes. For example, cell phones have information about a user's location and identity, which is leveraged by apps such as Uber and Facebook. On the Apple Watch, a user's vitals such as body temperature and heart rate can be used to monitor health. 
BlueLight Apple Watch App Features
BlueLight offers two primary features:
– Request Help for dialing emergency services
– On My Way for everyday location sharing when users are walking or driving. On My Way enables users to enter a destination and notifies select contacts in their network when they reach their destination safely.
Users can also personalize the app by saving custom addresses, including apartment and floor numbers; if the user calls for help from a saved location, emergency dispatchers know exactly where to send responders.
BlueLight's complete features include:
– Emergency calls placed through BlueLight are routed to the closest emergency dispatcher, whether it is campus safety, the city police department, or the state highway patrol.
– Whether you're walking home at night or on a road trip, let your contacts know when you're on the way and when you've arrived at a destination.
– Add up to 20 custom locations, including apartment and floor number, with BlueLight Places so that emergency responders can arrive quickly with the accuracy of a landline.
– In an emergency, notify selected contacts with a link to exact location.
– Install a widget on an Android or iOS smartphone so that help is only one tap away from the lock screen.
– Drop-down notification with specific location upon calling 911.
While the service is available as a standalone app, BlueLight is also available as a larger scale system that routes emergency calls to the caller's closest dispatchers. BlueLight is currently available at over 300 college campuses, select corporate campuses and ski resorts nationwide. The company is also piloting its service with several cities in the U.S.
BlueLight offers a free 30-day trial subscription for new users. To learn more about BlueLight and download the app, please visit http://www.getbluelight.com.