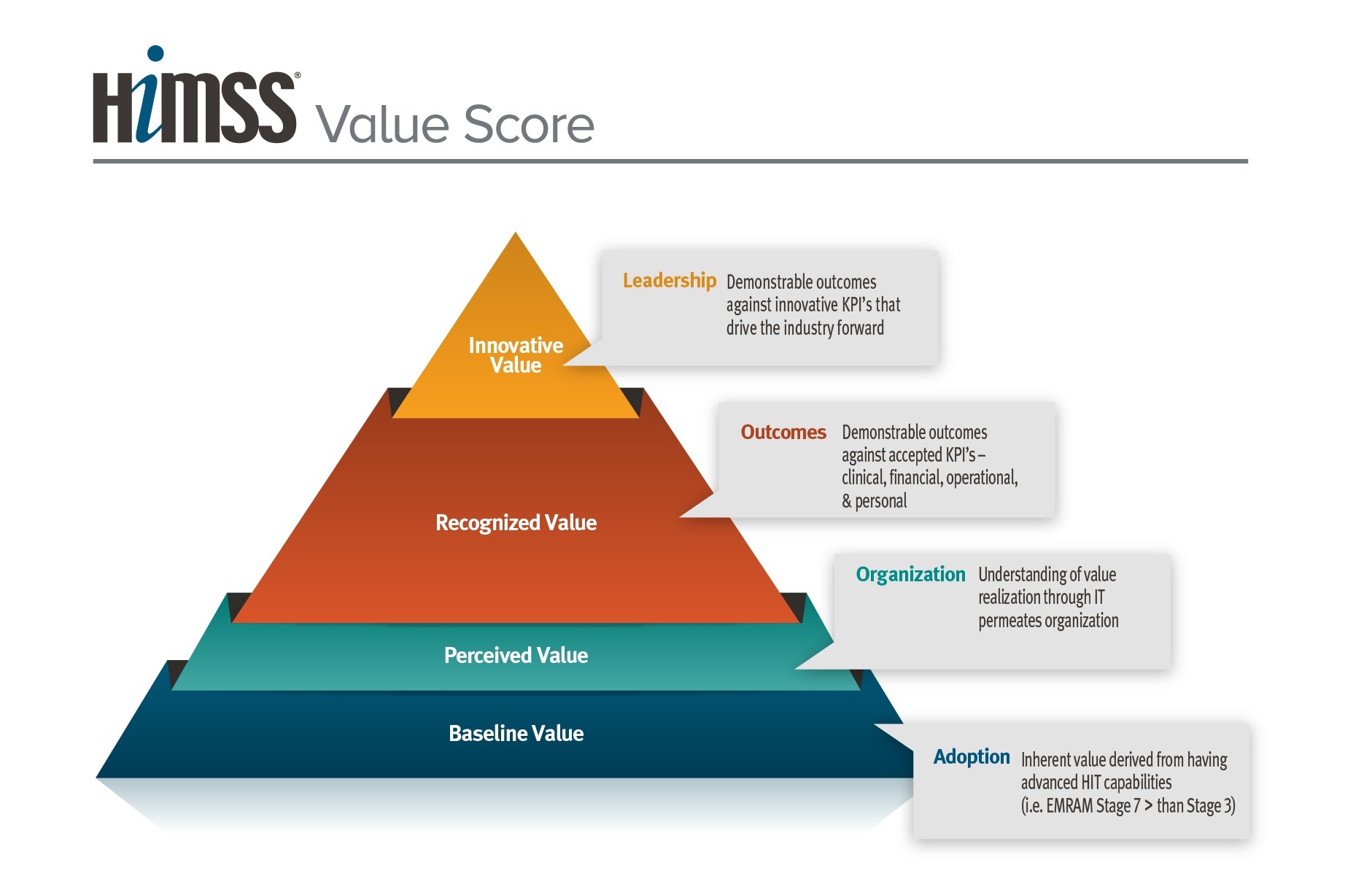 Today HIMSS announced the launch of the HIMSS Value Score, healthcare's first international quality measurement for the value of health IT. Developed with the assistance of McKinsey & Company, the Value Score builds off of HIMSS' Value Suite and HIMSS Analytics' Electronic Medical Record Adoption Model (EMRAM). The new standards will help healthcare providers optimize and use IT to improve clinical and financial outcomes, and drive efficiencies in care.
HIMSS Value Score Overview
The Value Score is the next generation of several HIMSS-developed standards and resources that have served as the leading health IT adoption models for providers over the last decade. For example, HIMSS Analytics' EMRAM has helped hospitals and clinical practices track and benchmark their EMR adoption and utilization goals since 2005. The HIMSS Health IT Value Suite and Value STEPSTM, released in 2013, have provided both a framework and vocabulary for providers to articulate their value strategy.
Thousands of entries and more than 900 detailed case studies offer strategy, tactics and measures used to document value. C-suite leaders have continually turned to HIMSS for insights and guidance on how to optimally use IT to tackle the challenges of today and prepare for those to come. As the market continues to evolve, the Value Score will give providers a way to look at their entire organization and capture a 360-degree view of how they achieve value beyond the EHR. 
"With the move towards value-based care, the international healthcare community can now look beyond initial adoption and toward a broader, all-encompassing way to measure the clinical and financial value of health IT," said Stephen Lieber, President and CEO of HIMSS in an official statement. "The Value Score is a combination of HIMSS' core competencies and is the natural next step in the continual evolution towards better care and outcomes for patients and providers."