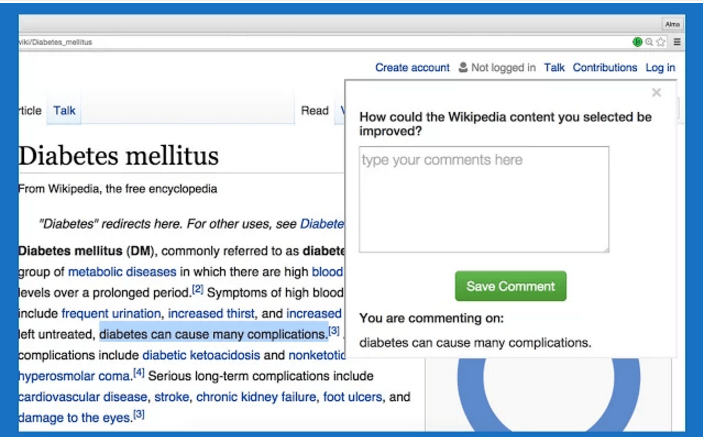 Docgraph, a company that works to create, maintain, and improve open healthcare datasets has publicly released Batea, a new browser extension that allows med students contribute clinically relevant portions of their browsing patterns to data scientists working with Wikipedia. Until now, Batea has previously in private beta with medical students from UCSF and UTHouston. 
Key Benefits
Built by DocGraph with support from the Robert Wood Johnson Foundation (RWJF), Batea will improve clinical Wikipedia articles by understanding how well they are working for a large group of clinically sophisticated users (especially medical students). By combining their browsing patterns, users will be able to better describe how well Wikipedia is disseminating clinical information as a whole. Once the shortcomings are quantified and provided to current Wikipedia editors, the content of those articles will dramatically improve. This, in turn, will significantly raise the quality of clinical information available to everyone online.
According to a 2014 study, Wikipedia is the single leading source of medical information for patients and healthcare professionals. Wikipedia's 25,000 medical articles receive more than 200 million views per month and its 8,000 pharmacology articles receive more than 40 million views per month. 
"Via Wikipedia a medical student could communicate with more patients in medical school than in an entire career as a practicing physician. With the Batea extension, the core community of medical editors will better understand how to improve Wikipedia's medical content," said James Heilman, MD, past President of Wiki Project Med Foundation.
How It Works
Once the extension is downloaded, Batea will start recording the med student's browsing session once they visit a clinical site but ignore any other pages visited. The browsing data is recorded anonymously and is then combined with the data of other users to further protect your identity. Users can stop recording a browsing session at any time. Users can stop recording the session at any time by clicking the Batea icon and switching the toggle to the "off" position. Doing so will turn the Batea icon red.
Wikipedia Comment Form
Medical students across the country are encouraged to download the Batea extension for use on their personal computers. Browsing histories will be aggregated monthly and shared with WikiProject Medicine to help direct future improvements to Wikipedia medical articles.
"The Batea extension is a game-changer," said Michael Painter, Senior Program Officer at RWJF. "More complete and accurate Wikipedia medical articles mean millions of Americans benefit from a better health resource for years to come."