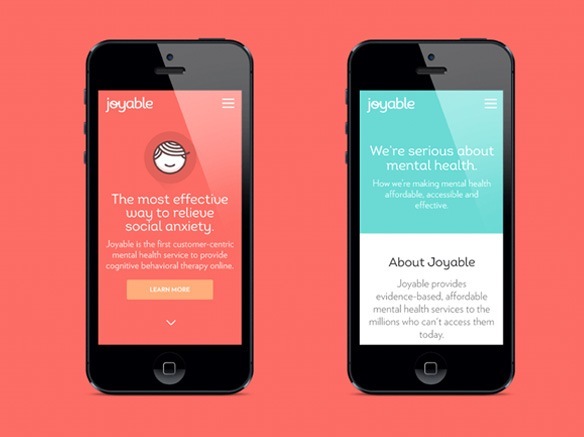 San-Francisco-based Joyable, an evidence-based, affordable mental health service provider has raised $8 million in Series A funding led by returning investors Thrive Capital and Harrison Metal. The funding will be used to develop the company's first-ever native mobile app to offer Cognitive Behavioral Therapy (CBT) and expand its service to more of the 15 million Americans currently suffering from clinical social anxiety. The company previously raised $2M seed round. 
Launched in March 2015, Joyable's self-paced 12-week program combines online CBT with support from trained coaches who are dedicated to guiding and motivating clients on each step of their journey. This approach is proving to be accessible, affordable and effective, having already helped thousands of clients make social connections easier and live their best lives. 
The startup hopes to address the staggering 1 in 8 adult Americans who will experience clinical social anxiety in their lifetime. Social anxiety is when people are so worried about being judged by others that important things in their lives become hard. According to the National Institute of Mental Health (NIMH), 85 percent of Americans with social anxiety don't get adequate help, even though CBT is a proven, effective treatment.  
"We live in a society where 116 million people — more than a third of the population of the U.S. — don't have access to quality mental health care, largely due to location or expense," said Pete Shalek, co-founder and CEO, Joyable. "This funding brings us exponentially closer to our goal of democratizing mental health with an effective, easy-to-access, and affordable solution for people struggling with social anxiety, with a vision towards offering a better life to all."
Clients that participate in Joyable's program set and work towards achieving goals designed to help them overcome their social anxiety. Several of these goals are focused on making human connections to have a happier and healthier life, both personally and professionally.
The top five goals clients seek to achieve are:
1. Meeting new people
2. Asking someone out on a date
3. Speaking up in meetings or class
4. Going to parties
5. Spending time in small groups
93% of Joyable clients see their anxiety decline, and the average decline is 39 percent — a life-changing difference for those in need.  To accurately measure the decline in anxiety, the startup uses the SPIN (Social Phobia Inventory) score,  a clinically validated measurement for social anxiety. Clients take the SPIN at the beginning of the Joyable program, and they retake it along the way to track their progress. 
Pricing for the program starts at $99 a monthly with 7 days for free or $239 for a three-month package.