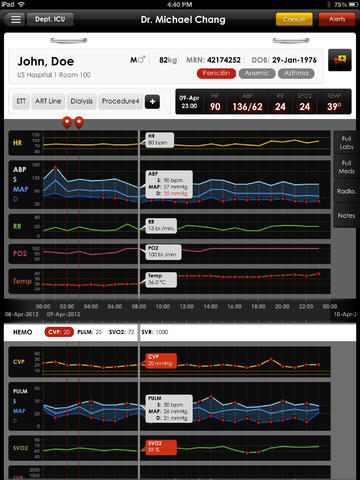 Zoeticx, Inc. and WellTrackONE Corp.have announced a partnership to bring interoperability to medical facilities' EHR systems. The collaboration will enable Zoeticx's Patient-Clarity platform software to integrate WellTracksONES's Annual Wellness Visit (AWV) patient reports and associated medical data to any EHR, Health Information Exchange (HIE) or other data repository.
As part of the agreement, providers will be able to easily access and manage WellTrackONE's AWV reports without using any cumbersome manual processes. WellTrackONE gathers and analyzes 280 patient data points, identifying potential catastrophic and chronic medical conditions.  Once the assessment is complete, specific conditions are identified for review by medical providers, flagging any potential for current risks and chronic conditions in multiple categories such as functional capacity, safety, cognitive, mental, vision and other areas. 
Current and potential catastrophic and chronic conditions that meet CMS' AWV guidelines are outlined by category, subcategory and severity and include suggestions for clinical testing and referrals to specialists.  The clinical triggers provide medically necessary information for follow up visits, lab and other testing as well as referrals of the patient to specialists to ensure the patient is obtaining the best possible care to minimize the risk of expensive catastrophic events. 
WellTrackONE's data laden reports are "pushed" into other database systems with Zoeticx's powerful data switch which uses a middleware driven Application Program Interface (API) to translate the data.
Revenue Generator for Hospitals
This integration of WellTrackONE and Zoeticx, developed by National Medical Reps, a Zoeticx and WellTrackONE reseller, meets stringent requirements from the Centers of Medicare & Medicaid Services (CMS) that enable medical facilities to receive reimbursements for each patient visit. The reports are also available to all IHIE patients and participating facilities, provide a much higher level of continuity of care for patients.
While each state and region have varied reimbursement rates, medical facilities will benefit from newCMS AWV revenue along with decreased IT costs.
Approximately two-thirds of the Medicare patients are flagged by the AWV for testing, imaging and specialty referrals within the hospital.  These additional referrals bring hospitals an average of about $500 yearly per patient. Subscribers are expected to trend upwards into 2050 and will create billions in new healthcare revenue through the US as the population ages.
The two companies are currently working with Indiana's Good Samaritan, Allscripts and the Indiana Health Information Exchange to integrate AWV reports into its data systems.
"Zoeticx's ability to integrate WellTrackONE's Wellness Visit Reports across hospital systems' disparate EHR landscape, HIEs and other databases will be of considerable benefit to providers looking to fulfill the patient care continuum," said WellTrackONE CEO Peter Bechtel. "The fact that our combined efforts will lead hospitals and care providers to greater profitability and better patient care only further enhances this relationship."
"Overcoming interoperability has been the goal of Zoeticx since day one," said Zoeticx CEO Thanh Tran. "The fact that we can integrate data from complex, data rich WellTrackONE AWV reports is further testimony to the positive impact of our relationship on the healthcare industry."