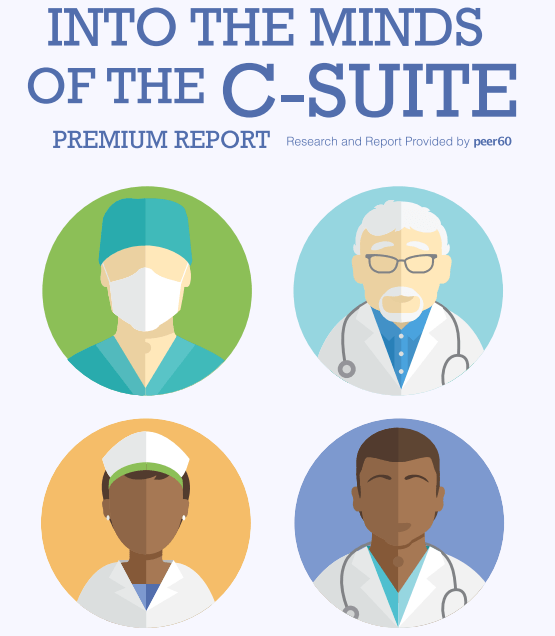 Today's hospital c-suite faces an ever-changing landscape of unrelenting government regulations, shifting population demographics, and continuing industry consolidation. As the industry deals with the shift towards value-based healthcare, the healthcare c-suite are increasingly looking for ways to extract value and cost-savings out of their healthcare organizations. 
In peer60's latest report, "Into the Minds of the C-Suite", takes an in-depth look into the minds of the hospital c-suite to find out what keeps them up at night (hello, migration to value-based reimbursements), the direction they're taking their organizations, which enterprise clinical IT vendors control market share among hospitals, large and small, and who they feel is most influential and innovative in healthcare today.
For the report, peer60 received feedback from 336 provider c-level executives over the course of two weeks across the country that run the gamut from critical access facilities to the very largest integrated delivery networks (IDNs). 
Top Challenges for Hospital C-Suite
When asked what are the top challenges facing your organization overall, executives identified the following challenges:
1. Managing switch to value-based reimbursement models
2. Effectively delivering care coordination
3. Managing patient populations
4. Effectively delivering patient engagement
5. Managing the shortage of physician and nurses
6. Managing data 
7. Regulatory Compliance
8. Meaningful ROI on IT Purchases
9. Mergers & Acquisitions (M&A)
When looking at the top challenges faced by healthcare facilities from the perspective of hospital size (bed size), it provides an even deeper view of what keeps provider executive up at night.
1-25 Beds
10. The smallest hospitals have the biggest struggle attracting and/or retaining physicians and nurses. There are many reasons for this– remote locations and income disparity being among them.
11. The second biggest challenge for this group is improving the ROI on IT purchases. Clearly, vendors have work to do in developing their solutions to truly scale to the needs of hospitals and in providing best practices in the use of their solutions, specifically the cost imposed on smaller facilities.
12. The last high level concern to these critical access hospitals is their ability to keep up with regulatory compliance.
+250 beds
13. At 251+ beds, the report finds that a shortage of physicians and nurses is primarily felt in smaller facilities, as the larger facilities rank this as a lower priority issue.
1001+ beds
14. For the large health systems (1001+beds), the report finds improvements to information security is a high-level concern among large hospitals. This concern is largely driven by the enournmous amount of data that needs to be securely managed. The larger the facility, the larger the potential target for potential security breaches that can cost healthcare organizations millions of dollars.
15. Lastly, Mergers and acquisitions tops the list of concerns among mega hospitals. Perspective changes a little as economies of scale allow those at the top of the food chain to become more profitable acquiring other organizations. In this segment, there appears to be very little middle ground: hunt or be hunted.  
To download the report directly, visit https://www.peer60.com/hospital-c-suite-2015/