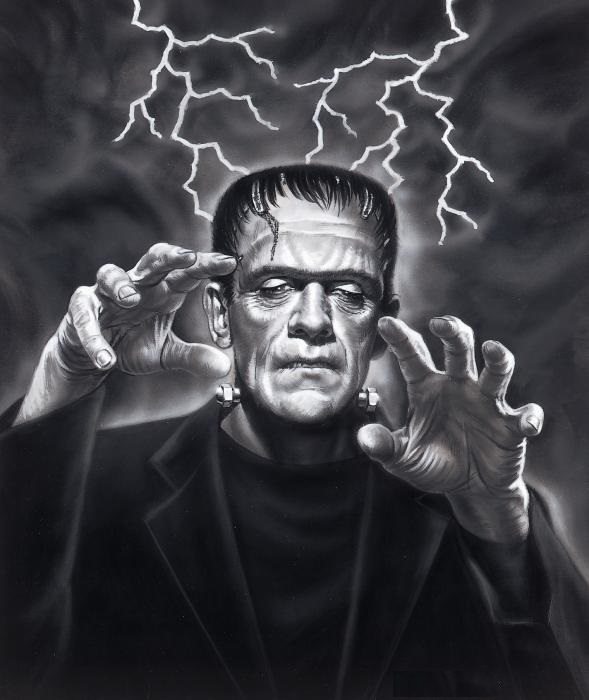 Victor Frankenstein created his monster with a mix of parts, some chemistry and a touch of alchemy.  Depending on how one looks at the fictional creation, although hideous, it was a successful experiment to create an emotional and sensitive creature. As we approach another Halloween night, health IT has its share of cobbled together solutions that for the most part are working, albeit with a great deal of frustration from both patients and physicians and for the most part on a local level. We have yet to scale the complex castle walls of data access and cross the moat of interoperability.
Much like Frankenstein's monster, we have learned a great deal about health IT with the nationwide implementation of EHR's that most physicians have at least some experience with. This was not without a great deal of frustration, expense and increased complexity from a patients' perspective. Despite what appeared to be a large step forward, EHR's have actually done little to impact care across the care continuum and between different care locations.
Recently, both congress and patients have raised concerns about this lack of health information sharing. William Herd, chairman of the subcommittee on information technology shared his concerns that service members are being asked to collect paper copies of their medical records as they transition their medical care from the Department of Defense to the VA system. Herd places blame on leadership failures rather than those arising from technical limitations and lack of standardization. 
On another account, a lawsuit was filed against two hospitals in Washington, DC against medical centers for being charged excessive amounts of money to obtain electronic copies of their medical records, something that should be easier than the past where records had to be manually copied. Despite these challenges, the focus continues to be on looking for an optimal solution of data transfer between the many EHR systems currently deployed. When we look at this as the only means to enhance healthcare, frustration will continue as new systems and data formats will continue to be developed and necessitate the continual modification of each and every system. 
Is DNR (Do Not Resuscitate) Now Interchangeable With DRY (Don't Repeat Yourself)?
As we have learned and embraced in other complex software projects, the acronym DRY (Do Not Repeat Yourself) has become a guiding principle. Don't repeat yourself (DRY) might be better recognized and appreciated in medicine through the use of DNR (Do Not Resuscitate) , but maintaining the meaning of DRY.
The concept behind DRY or DNR is to reduce repetition of information at all levels, including the code running the applications as well as the data being stored. Our focus on information exchange is contrary to the true DNR concept. Like Frankenstein's monster, we might develop a system that moves, but we are unlikely to create one that is dynamic and meets the needs of our patients, physicians and the system as a whole. 
Moving Beyond Data Exchange
Data exchange is the lowest level of interoperability, but this is not what is needed in our complex healthcare system. Instead, we need to impact data flow, the near real-time access to dynamic information that evolves as patients move through the healthcare system.
When we look at what our patients are asking for and what our physicians and other healthcare professionals need to safely and efficiently complete their job is access to the information that impacts the decisions we make on their behalf. Building a system that meets these needs does not arise from finding a secure model to pass data from one system to another, but instead from connecting systems together.
Mobile computing has done exactly what we need to do in healthcare, build upon a platform where access is the central driver. With this type of access, you are not required to duplicate and transmit data, thereby eliminating many of the incompatibles we find in different EHR's. 
Physicians and patients do not care where the data resides, but they are dependent on accessing it and communicating the meaning they ascribe to it. Access to, not sharing of data, brings about widespread coordination not yet appreciated in healthcare. On the precipice of another Hallows Eve, I am hopeful our creation does not turn on the creators, but instead recognizes the need for medical facilities' data systems to integrate with healthcare 2.0 system integrators.  Solutions such as those offered by Zoeticx and others who enable interoperability with disparate EHRs, HIEs so providers and patients no longer have to be haunted by the monstrous problems of lack of interoperability.  
Dr. Donald Voltz is a board-certified anesthesiologist, researcher, medical educator, and entrepreneur. With more than 15 years of experience in healthcare, Dr. Voltz has been involved with many facets of medicine. He has performed basic science and clinical research and has experience in the translation of ideas into viable medical systems and devices.