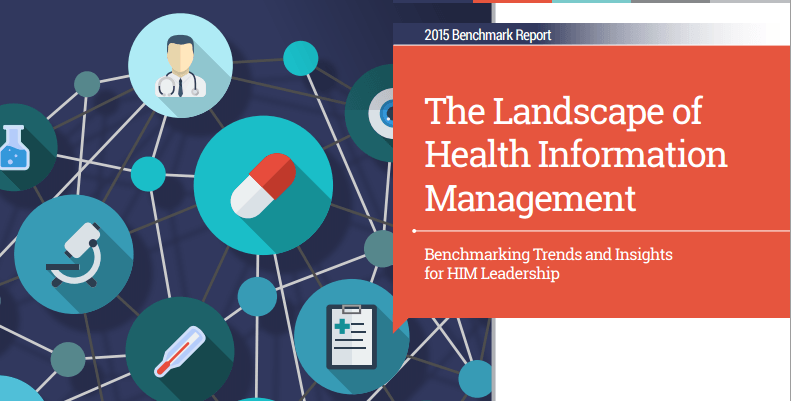 As the healthcare industry embarks upon a post ICD-10 world, the landscape of health information management (HIM) is evolving. So how are HIM professionals responding to today's current challenges such as ICD-10, coder productivity, Clinical Documentation Improvement (CDI), Computer Assisted Coding (CAC) and outsourcing? To gather these insights, ADVANCE for Health Information Professionals and himagine solutions, Inc. recently published their inaugural 2015 Benchmark Report: The Landscape of Health Information Management – a comprehensive analysis of today's health information marketplace.
Report Background/Methodology
Over a 30-day period, over 140 HIM professionals was asked their thoughts on the overall HIM department, ICD-10 and outsourcing. The benchmark report addresses these topics and many more with the goal of providing HIM professionals with a holistic view of HIM departments throughout the nation.
Key HIM benchmarking findings/trends of the report include:
HIM Department
1. HIM professionals ranked managing financial metrics (26%), coder productivity (25%), and quality (23%) as their biggest challenges in managing a HIM department.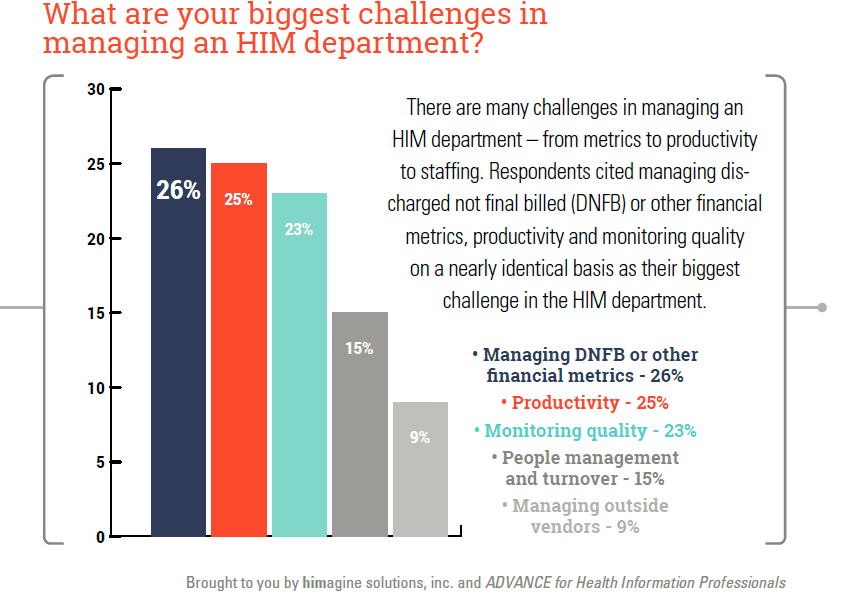 2. 65% of facilities employed 10 coders or less with 22% having 11-20 coding resources.
3. Key metric HIM departments lean on to gauge performance include: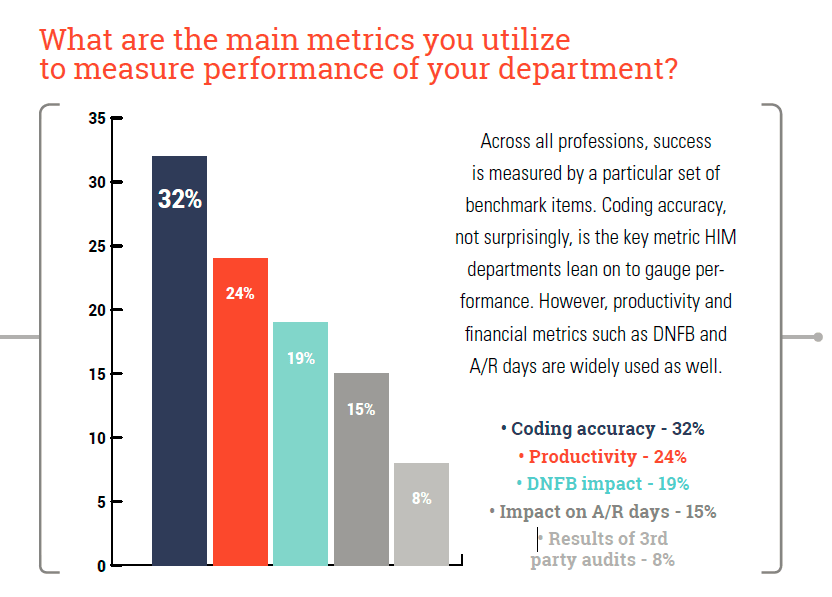 4. The frequency at which HIM departments audit their internal coders revealed very little consensus.
– Quarterly (34%)
– Monthly (28%)
– Annually (26%)
– Weekly (12%)
ICD-10 Readiness
5. Respondents were very optimistic with more than 63% saying they expected to be fully prepared for the transition from ICD-9 to ICD-10 coding by the October 1 deadline. Another 29% reported they were slightly behind while 7% said they were significantly behind schedule.
6. HIM professionals reported concerns about how ICD-10 impact on coders. 40% reported that productivity will be reduced by at least 40% while one quarter says the impact will be 25% or less.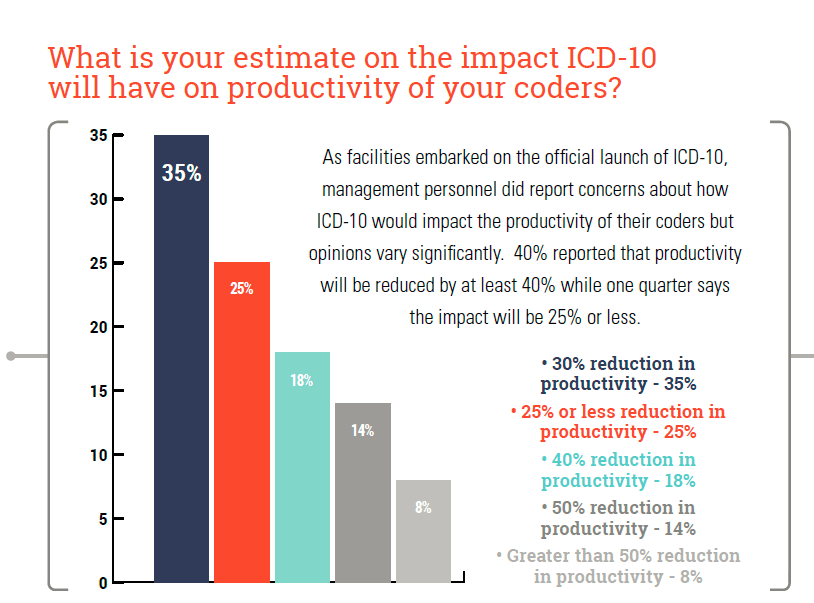 7. 75% believe the productivity impact from ICD-10 will be at least 30%; however, over a third are not planning on adding incremental coding resources to address this issue.
8. One fifth of respondents had not practiced dual coding prior to go- live. Of the 80% who adopted dual coding, the percent charts coded varies dramatically indicating there is no best practice in this regard.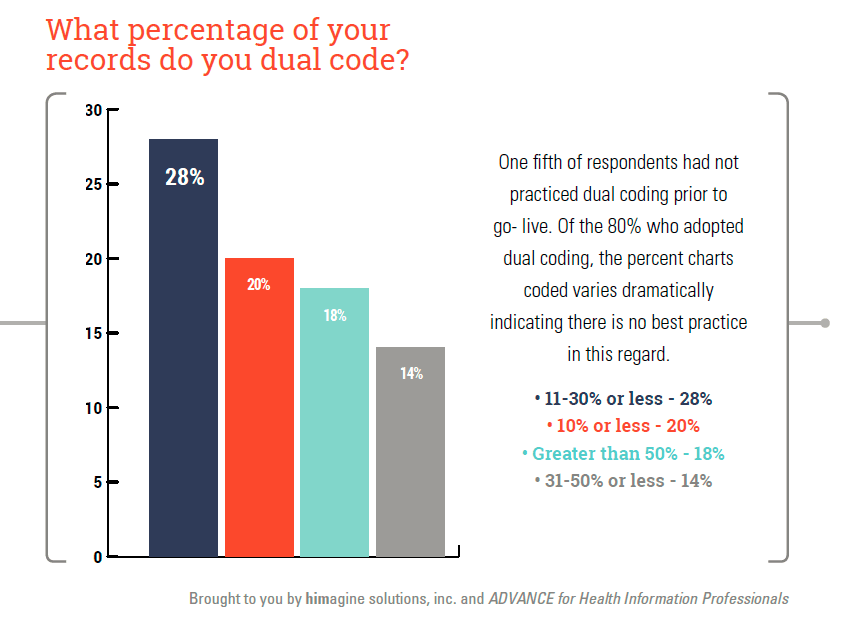 9. For those facilities that have embarked on dual coding initiatives, 80% have reported that they are auditing their results.
10. More significantly, 83% reported they have implemented educational follow up and feedback after the dual coding audit process.
11. 93% of respondents reported they were ready or slightly behind schedule for ICD-10 and 80% practiced dual coding although there was no consensus on the percent of charts dual coded prior to go-live.
Computer Assisted Coding
12. 56% of respondents do not currently utilize CAC technology; however, 75% of these individuals indicate they anticipate purchasing this technology within the next 12 months. Is CAC the panacea for regaining lost productivity?
Clinical Documentation Improvement (CDI)
13. 70% of respondents have a formal CDI program in place at their facility yet nearly two-thirds of these facilities have no CDI technology solution implemented.
14. About 60% of HIM professionals outsource a portion of their coding needs. Nearly 50% work with one or two vendors; however, an astonishing 45% work with seven or more which speaks to the fragmented nature of this industry and the inability for vendors to meet the needs of providers. 
15. HIM professionals reported 52% of their CDI professionals are trained as nurses, while 22% are coders by trade. However, more than a quarter reported their CDI professionals have dual credentials as a nurse and coder.
16. As with the number of coders, respondents reported a wide variety of CDI professionals at their facility.
– 1-2 (47%)
– 3-4 (26%)
– 8 or more (15%)
– 5-7 (12%)
17. 56% of CDI professionals report to the HIM department, followed by 35% reporting to Care Management and only 9% report to CMO or CIO.
18. 63% report that they do not utilize an IT solution as part of their CDI workflow.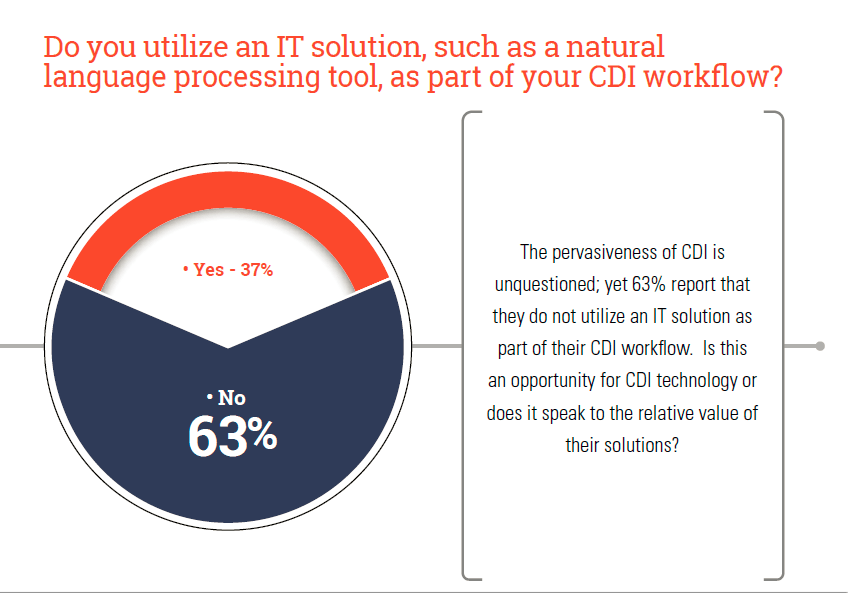 19. 64% of HIM professionals reported having an active physician advisor in place for their CDI program.
Outsourcing
20. The biggest issue providers face with their outsourcing vendors is the quality of their coders, although on-boarding time, ineffective auditing, and coder availability are also prevalent. Interestingly, respondents were relatively comfortable with the ICD-10 readiness of their vendors
21. Nearly 60% of respondents outsource a portion of their coding resources; however, majority of those who work with vendors outsource 30% or less of their coding needs.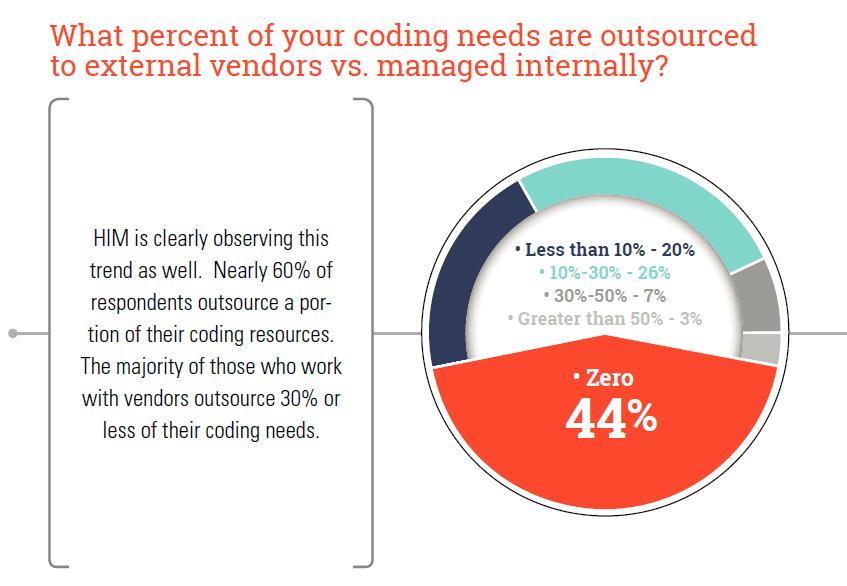 22. The number of vendors utilized for outsourcing varies dramatically. Nearly 50% work with one or two vendors; however, an astonishing 45% work with seven or more which speaks to the fragmented nature of this industry and the inability for vendors to meet the needs of providers.
– 1-2 resources (47%)
– More than 7 resources (45%)
– 3-7 resources (8%)
23. Quality of their coders was identified as the biggest issue providers face with their outsourcing vendors.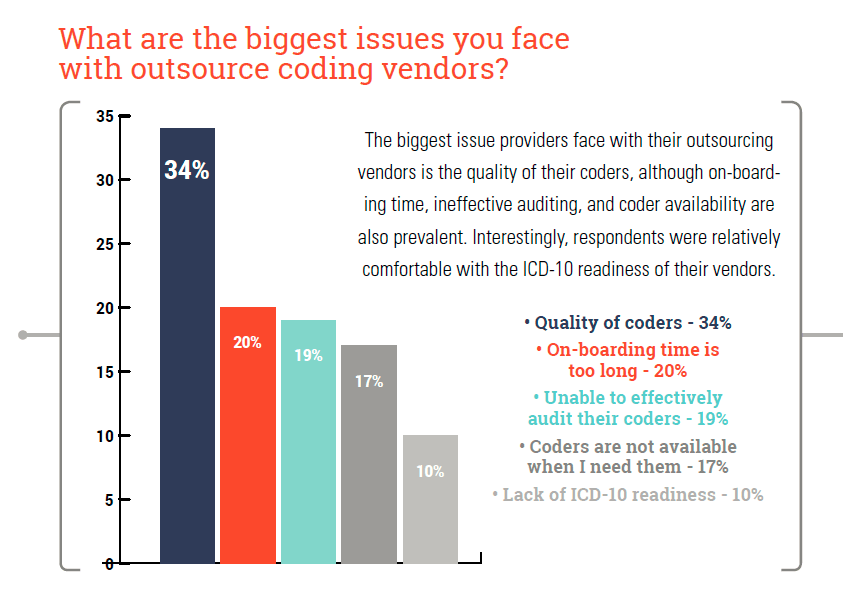 24. Respondents reported accuracy and productivity to be their top metrics when trying to gauge performance of outside coders. On a relative basis providers focus more on accuracy and productivity with outsourced vs. their internal coders, and less on financial metrics. Perhaps this is an opportunity for outsource vendors to quantify the impact their resources can have on financial metrics and differentiate themselves from competitors.
– Accuracy (38%)
– Productivity (34%)
– Impact on DNFB (14%)
– Impact on A/R days (8%)
– Results of 3rdvparty audits (6%)
25. For facilities who outsource, 83% of respondents reported an average of less than 4 weeks of training for an outside vendor to on-board new coders.
– 2 weeks or less – (58%)
– 4 weeks (25%)
– 4-6 weeks (10%)
– 6-8 weeks (6%)
To download the full report, please visit http://health-information.advanceweb.com/Web-Extras/Online-Extras/HIM-Benchmark-Report.aspx