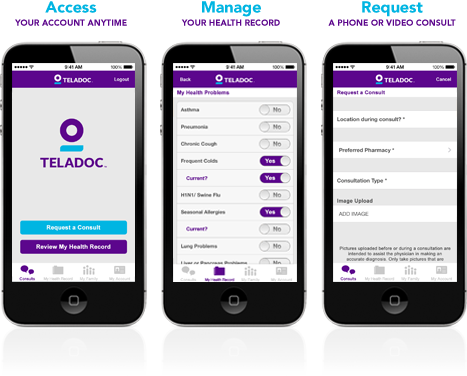 On-demand telehealth platform Teladoc  has crossed an industry milestone this week with the completion of its 1 millionth telehealth visit. Each telehealth visit reflects an interaction between a board-certified, state-licensed physician and a patient in need of health care via video, phone or online.
To date, more than 12.5 million U.S. members are connected to Teladoc's network of over 2,000 board-certified, state-licensed physicians and behavioral health professionals who provide care for a wide range of non-emergency conditions. With a median response time of less than 10 minutes, Teladoc physicians will perform more than 525,000 telehealth visits in 2015. Teladoc and its physicians consistently earn a 95 percent member satisfaction rating or better, and Teladoc is the only telehealth company to be certified by the National Committee for Quality Assurance (NCQA) for its physician credentialing process.
"Hitting our 1 millionth visit underscores the growing adoption and utilization of telehealth services across the country," said Jason Gorevic, Teladoc chief executive officer in an official statement. "This Teladoc milestone is evidence of the value we deliver and the confidence our employers, members, physicians and hospital systems have in our ability to provide quality health care where and when people need it most."
Teladoc helps resolve common, non-emergency issues and offers behavioral health, dermatological, tobacco cessation and sexual health services. Teladoc maintains a 92 percent medical resolution rate and a 95 percent patient satisfaction rate. According to the National Business Group on Health, 74 percent of large employers are expected to offer telemedicine in 2016 compared to 48 percent in 2015 and only 28 percent in 2014.