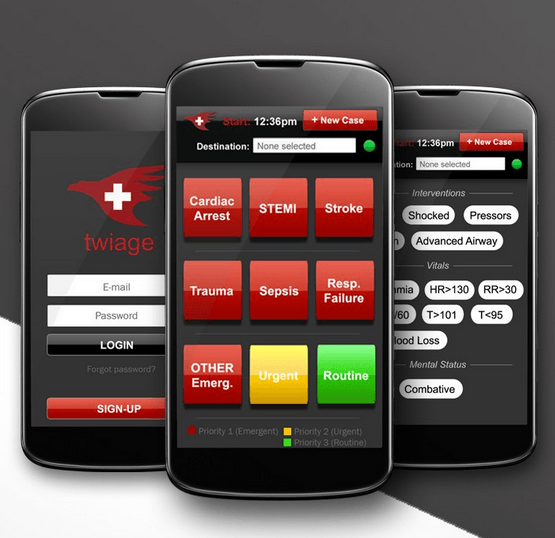 Atlanta-based Twiage (Twitter for Triage), a Blueprint Health company that enables seamless EMS to ED care transitions using mobile technology has been selected by Cleveland Clinic Innovations as one of the four finalists for its prestigious New Ventures Healthcare Challenge. The challenge is a part of Cleveland Clinic's commitment to cultivating the next early-stage digital health companies that will disrupt the market and streamline the delivery of better care to patients everywhere. 
Next Generation Entry Notification
Founded in 2013 by an EMT, physician, and tech guru, Twiage's secure interoperable platform for EDs and EMS puts telemedicine at the fingertips of first responders and physicians to accelerate patient care in the most crucial moments. Paramedics and EMTs can use Twiage's HIPAA compliant app to capture stroke symptoms in video, EKGs for heart attacks, trauma scenes through photos, and record digital voice memos.
By providing live patient data and GPS-tracked ETA for all incoming ambulances, Twiage helps hospitals and EMS agencies efficiently manage throughput and prehospital coordination, while improving performance measures, patient outcomes, and reducing costs.
"We're absolutely thrilled to be selected by Cleveland Clinic," says Twiage founder, Dr. YiDing Yu in a statement. "When a patient has a stroke, time is brain. Twiage is helping stroke teams accelerate diagnosis and treatments, even in the most rural landscapes. We are excited that Cleveland Clinic recognizes that potential in prehospital and EMS care coordination and we are ready to show why Twiage is a winning solution."
In addition to Twiage, the other three finalists named in the New Ventures Healthcare Challenge include:
– Explorer
– Noninvasix
– Varsa Health
The winner of The Challenge will receive a free consultation from commercialization experts at Cleveland Clinic Innovations and its Innovation Advisory Board, made up of some of the most well-known industry experts, entrepreneurs, and investors in healthcare. The winning company will be featured in various Cleveland Clinic Innovations promotions, and also have the opportunity to showcase its product to a select group of Cleveland Clinic caregivers.