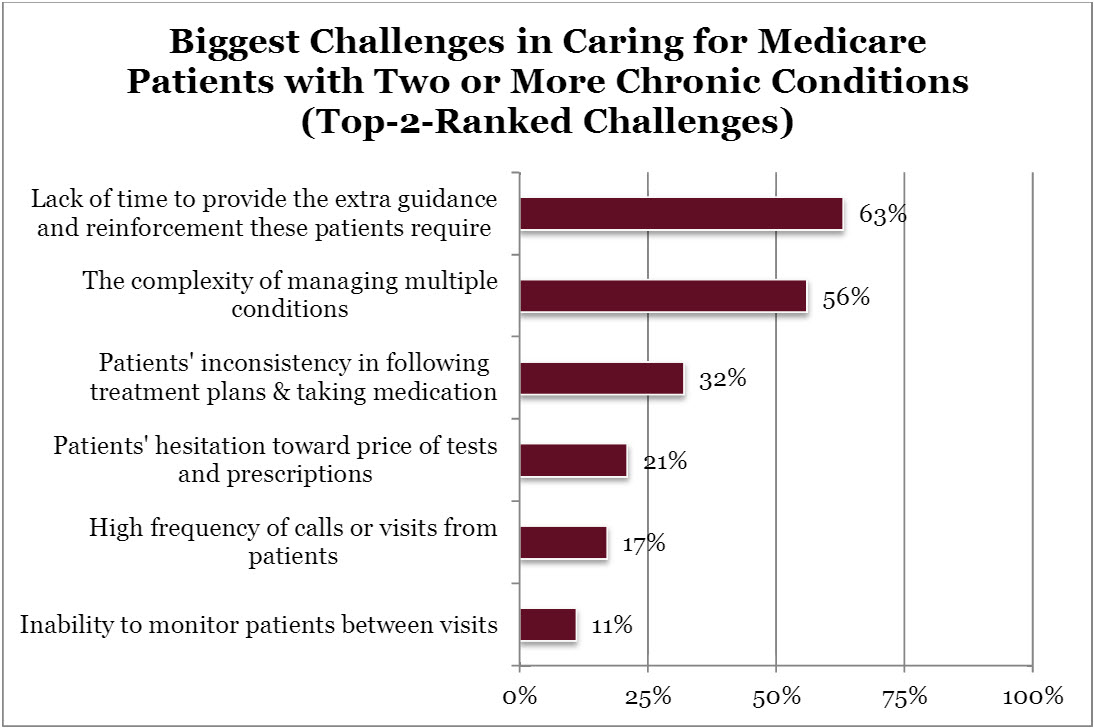 As healthcare shifts to value-based care, there is growing emphasis on helping patients with chronic conditions better manage their health. Patients with two or more chronic conditions – such as heart failure, diabetes and asthma – make up more than two-thirds of the entire Medicare population. And caring for these patients requires extra time – something most physicians don't have. Physicians looking to bring more personalized care to their practices report difficulties implementing the additional services needed for this group of patients. 
Sixty-three percent of primary care physicians cite lack of time to provide the extra guidance and reinforcement that chronic care patients require to understand their treatment plans as a top challenge, according to a new study released by SmartCCM, a medical services company that specializes in chronic care management.
Fielded by Medical Marketing, Inc. in July and August 2015, the survey polled 500 primary care physicians who treat Medicare patients on the challenges of caring for chronic care patients, frequency of contact with these patients and patient compliance.
The survey found that almost half (46 percent) of primary care physicians are not aware that they can be reimbursed for non-face-to-face time with Medicare patients who have two or more chronic conditions. Medicare introduced CPT code 99490 in January 2015 as a way to reimburse physicians for the extra time, staffing, and technology necessary to sustain comprehensive chronic care management. The code is intending to vastly improve outcomes for patients while providing additional income for physicians' practices.
Key findings include:
-56 percent cite the complexity of managing multiple conditions as one of the top-two challenges in caring for this population
-38 percent percent of physicians do not contact their Medicare patients with two or more chronic conditions between office visits.
– When it comes to compliance with a specific care plan, the physicians characterize three-quarters of their Medicare patients with two or more chronic conditions as only "somewhat compliant."
-Other challenges (such as patient inconsistency in following treatment plans, patient hesitation toward price of tests and prescriptions, and high frequency of calls and visits from such patients) were mentioned to a lesser degree.
To read the full results of the survey here