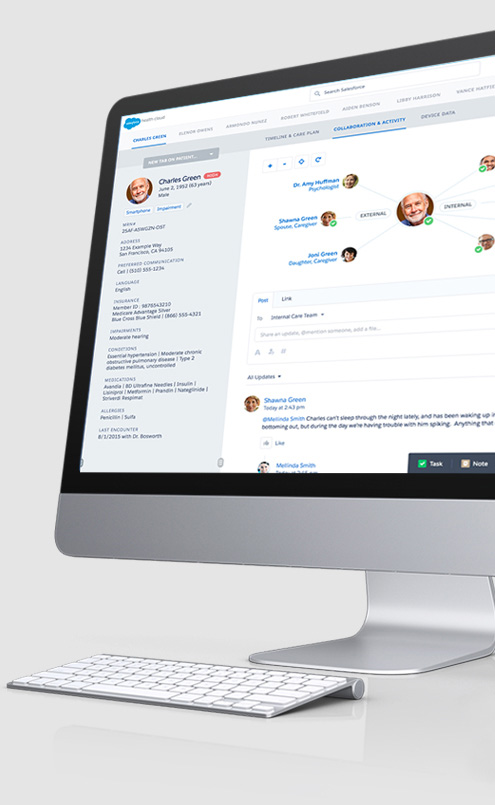 Salesforce is making a big bet in healthcare with a solution built in the cloud that empowers caregivers to connect with patients via mobile, social and other channels. Today, the CRM platform provider is introducing Salesforce Health Cloud, a cloud-based patient relationship management solution that enables providers to gain a complete view of the patient with integrated data from electronic medical records (EMRs), wearables and more; make smarter care decisions; engage with patients across their caregiver networks; and safely manage patient data.
Data and information has been a pain point for health care as long as it's been an institution, and Salesforce is attempting to seize this opportunity to make a play in health care. Historically, there has not been a lot of transparency with health data, with this product provided by Salesforce, info will flow 2 ways. Now, patients can access the dashboard and a nurse can follow up with a patient via text to add accountability. 
"Healthcare providers have invested billions in their EMRs," said Ross Mason, founder and vice president of product strategy for MuleSoft. "MuleSoft provides critical integration services to allow hospitals and caregivers to free data from these systems, connecting to Health Cloud so that care coordinators and other employees can get a holistic view of their patients and deliver the best care possible."
Salesforce Health Cloud Overview
Today's health systems need to make the shift to from organizations centered around revenue cycle management and electronic health records, to organizations focused on patient relationships. With Salesforce Health Cloud Salesforce provides a solution built on Salesforce Service Cloud that enables providers to get a more precise view of patient demographic, lifestyle and health information to better serve their needs.
Complete View of Patient Data: Salesforce Health Cloud Patient Card enables care coordinators gain a complete view of their patients, from current conditions, to medications, to scheduled appointments. Data for the profile is populated from multiple sources, including EMRs, medical devices, wearables and more. Patient information is presented in Health Cloud's Timeline view that allows providers to understand the progression of a patient's health journey. And by using the Patient Caregiver Map, providers map household relationships, as well as all providers and specialists across a patient's healthcare network.
Smarter Patient Care Decisions: Salesforce Health Cloud's Today screen alerts caregivers to timely issues, whether it is missed appointments or a need to refill medications. Rather than toggling between multiple systems, caregivers make smarter patient care decisions directly from the console by browsing tasks matched to specific patients and quickly acting upon them. In addition, by leveraging Salesforce Chatter, care coordinators review internal conversations taking place around certain patients, ensuring collaboration across the care network. Finally, providers can easily segment and manage patient populations, such as setting reminders for patients with high-blood pressure to schedule regular check-ins.
Engage More Deeply with Patients Across Any Device: Health Cloud features Private Patient Communities, which allows care coordinators to securely collaborate and assign tasks across a patient's caregiver network. Private Communities also helps patients view progress against a care plan, find answers quickly to common questions and connect with any provider in their network. Also, by extending Health Cloud to mobile platforms, providers can send messages to a patient's smartphone, reaching patients where they live and work.
Ensure HIPAA Compliance with Salesforce Shield: Health Cloud helps healthcare providers adhere to compliance standards from the Health Insurance Portability and Accountability Act (HIPAA) with Salesforce Shield, an optional set of Salesforce1 Platform services that extends the value of Health Cloud. Salesforce Shield includes features such as Field Audit Trail, Platform Encryption, Data Archive and Event Monitoring so that healthcare providers can safely manage, audit and archive patient data under current HIPAA requirements.
Health Cloud Integration with Major Medical Systems
Salesforce has established partnerships with leading health and medical device companies including Centura Health, DJO and Radboud University Medical Center, Salesforce Health Cloud puts patients at the center of their healthcare experiences. Salesforce independent software vendors (ISVs) MuleSoft and Philips, and systems integrators (SIs) Accenture, Deloitte, PwC and Persistent, support the solution by providing data and other technical integration solutions with leading medical IT systems, such as Epic, Cerner, GE Healthcare and others.
"The era of precision healthcare is upon us," said Dr. Joshua Newman, MD, Chief Medical Officer, Salesforce Healthcare and Life Sciences. "Just like we use precision medicine to target cancer and other diseases, precision healthcare is enabling us to develop more meaningful, accurate and long-term relationships with patients. Health Cloud is a huge step forward in this industry transformation."
Salesforce Health Cloud previews today, and will be generally available in February 2016.