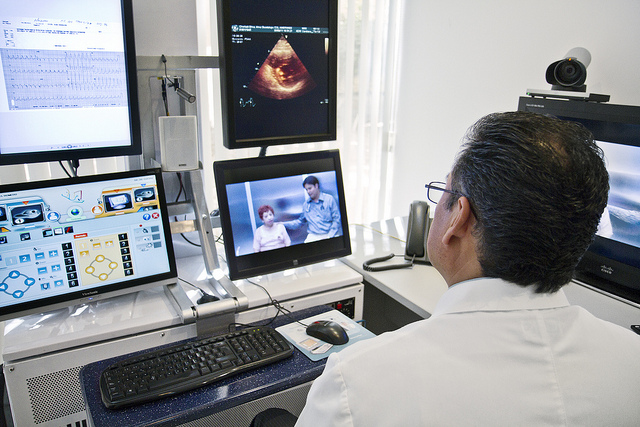 Telehealth represents the next frontier in medical care, and it's something healthcare providers are already feeling the pressure from their digitally connected patients to provide.  How much pressure? According to Logicalis Healthcare Solutions, the healthcare-focused arm of Logicalis US, an international IT solutions and managed services provider, that depends on the generation of patient being served.
While traditional communication channels remain popular among older patients, the next generation of younger patients known as millennials are interested in utilizing more digital health tools to enhance their patient experience. According to to a recent Salesforce report, The "State of the Connected Patient" report, 60 percent of millennials are interested in using telehealth options (e.g., video chat with a doctor) so they don't have to come into the office for an appointment.
"In the not-too-distant future, telehealth will be such an integral part of the medical experience that there will be no difference between healthcare and telehealth; telehealth will be healthcare," says Ed Simcox, Healthcare Practice Leader, Logicalis Healthcare Solutions. "The tipping point, which Logicalis believes will come within the next four years, will be that point in time when more patients are using telehealth than visiting face to face with their doctors.  Today's digital natives expect to interact online with service providers – including their physicians – with the same convenience they experience ride-sharing via Uber or booking a vacation room via Airbnb. To remain relevant, healthcare providers must capitalize on these expectations by providing fully integrated telehealth solutions.  Those providers that haven't begun catering to the younger patient demographic using telehealth are already falling behind."
A Three-Stage Telehealth Model
According to Logicalis experts, healthcare providers adopting telehealth solutions are finding themselves in one of the following three stages along their respective telehealth transformation journeys:
– Stage 1, an ad-hoc solution often cobbled together to support the narrow, urgent need of a small group of clinicians and patients
– Stage 2, a rationalized, departmental telehealth strategy that is more standardized and programmatic
– Stage 3, a clinically integrated telehealth solution that enables advanced data exchange between healthcare providers, patients, labs, pharmacies and family caregivers.
There are already over 30 service lines including radiology, stroke care/neurology, dermatology and even behavioral health that are using telehealth with regularity. These solutions they're employing can be categorized into four basic telehealth categories, each of which can be tailored to that service line's specific patient needs:
1. Synchronous: A live, bi-directional, video-based encounter between patient and provider for consultations, health exams, health education and training, and patient observation – even monitoring patients in an intensive care unit.  When is it useful? Patients who have a stroke, for example, must be treated with outcome-altering medications like tPA within the first hour after the stroke occurs; however, most U.S. hospitals are not certified to deliver this medication. Through synchronous telehealth solutions, a certified stroke center can monitor the patient remotely and enable a non-certified center to administer tPA within the "Golden Hour."
2. Store and Forward: The transmission of information such as images, clinical results, education and training, and patient portals to be reviewed at a later time. When is it useful? Imagine a patient injured on a remote oil platform; the patient has bruising to his abdomen.  A co-worker uses a portable ultrasound to transmit live video to technicians on shore who direct him in capturing the right screen shots; those views are then stored and forwarded to a radiologist who can evaluate the patient remotely.
3. Remote Monitoring: The collection of vital signs and health progress data from chronically ill patients and the transmission of that data to a provider in a separate location for care or support. When is it useful? Heart patients who are otherwise ready to leave the hospital but who need regular monitoring of their blood pressure could benefit from having their blood pressure monitored at home and remotely reported directly to their physician.
4. Mobile Health/Wellness: Care supported by mobile devices to promote healthy behaviors, deliver alerts or reminders, and promote remote case management, including anything from vital signs monitoring to behavioral health assistance or diet and weight loss tips. When is it useful? Remote workers or elderly patients, for example, can employ medical monitoring devices or even "smart" clothing to alert caregivers when they need assistance. 
For more information, visit Logicalis' dedicated healthcare web site to learn more about telehealth.