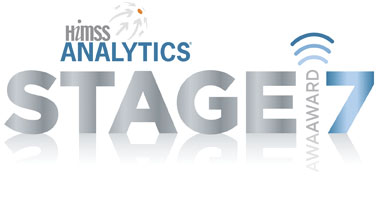 HIMSS Analytics awarded the National Institutes of Health (NIH) clinics with a Stage 7 Award. The award represents NIH's attainment of the highest level on the Electronic Medical Record Adoption Model™ (EMRAM).
HIMSS Analytics developed the EMR Adoption Model in 2005 as a methodology for evaluating the progress and impact of electronic medical record systems for hospitals in the HIMSS Analytics™ Database. There are eight stages (0-7) that measure a hospital's implementation and utilization of information technology applications. The final stage, Stage 7, represents an advanced patient record environment. The validation process to confirm a hospital has reached Stage 7 includes a site visit by an executive from HIMSS Analytics and former or current chief information officers to ensure an unbiased evaluation of the Stage 7 environments.
During the second quarter of 2015, only 3.7 percent of the more than 5,400 U.S. hospitals in the HIMSS Analytics® Database received the Stage 7 Award.
The NIH Clinical Center, the clinical research hospital for the National Institutes of Health, is the first federal hospital to achieve Stage 7. Through clinical research, clinician-investigators translate laboratory discoveries into better treatments, therapies and interventions to improve the nation's health.
"The NIH Clinical Center is a remarkable place doing remarkable things with its EHR for the patients they serve. From automatically capturing discrete data on anomalies found in digital imaging to providing pharmacogenomics clinical decision support to physicians, they are clearly a Stage 7 organization," said John H. Daniels, CNM, FACHE, FHIMSS, CPHIMS, global vice president, healthcare advisory services group, HIMSS Analytics.