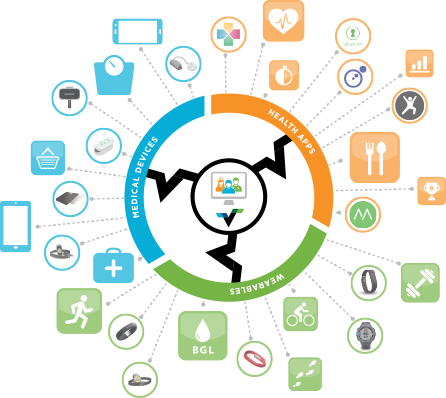 Digital health devices are quickly becoming a part of our everyday culture as mobile fitness trackers and connected clinical devices become common as smartphone. This healthcare revolution represents an enormous opportunity for healthcare providers to extend their reach and connect to their patient populations. Care is moving beyond the four walls of the hospital and physician's office, and provider organizations are beginning to invest in the necessary infrastructure and programs to help launch data-driven initiatives.
These new, remote sources of patient health data provide valuable information to caregivers−whether it is a physician, nurse, clinician, or lab technician−that can be used in the treatment of a patient. With technology, healthcare providers are now able to monitor existing conditions, diagnose earlier and with more accuracy, and provide better preventative care. 
In order to incorporate information from all of these new technology sources, providers need to establish a clear digital health strategy that incorporates telehealth services, remote patient monitoring, and analytics. All of these initiatives are critical to the future success of a healthcare organization. And, key to the success of those initiatives is patient-generated data. 
The Landscape: Where is Digital Health Today?
Most providers have yet to implement or successfully launch a digital health strategy with 59% of healthcare organizations either behind schedule with their digital health strategy or have no digital health strategy currently in place. The remaining 41% of healthcare organizations state they are on schedule with implementing and executing their digital health strategy, according to a recent global survey conducted by digital health platform provider Validic. For the survey, Validic reached out to more than 450 healthcare organizations to gain better insights into the current state of digital health strategies.
5 Steps to Digital Health Success
A digital health strategy is the only way for healthcare organizations to efficiently and effectively drive better outcomes, reduce costs and provide better care. For healthcare organizations that want to launch a digital health strategy, or reinvigorate an existing one, Validic has outlined the following five key steps to take:
1. Assemble the Team
First, allocate sufficient cross-departmental resources to make the program a success. Identify technology champions among the executive, clinical, product and information technology staff who can take ownership of the initiative. This core team can educate clinicians about the value of the data, hammer out the details of the digital strategy, and work with the IT team to ensure that the data can be pulled into existing clinical systems in a way that is useful to all stakeholders.
2. Identify Objectives
Determine the key strategic initiatives for your organization and the programs that would best suit your patients in your environment. Do your research, review your numbers and consult your patients. Ask yourself the tough questions, like what is feasible and realistic? The key to success for any strategy is to set clear expectations early on to build an accurate roadmap.
3. Budget the Project
Once the project or program is identified, implementation will require a budget, as well as a full cost justification analysis. There is a strong return on investment (ROI) case to be made for digital health initiatives: organizations can reduce costs, improve patient outcomes, and make it possible for clinicians to treat more patients in a more efficient manner. Integrating real-time digital health data can also help provider organizations transition to value-based care by focusing on preventative interventions.
4. Establish Partnerships
While it is possible for some advanced health system IT departments to build the necessary technology infrastructure to integrate digital health devices or stream video visits, doing so would be an ultimate drain on the organization's human and financial resources. It is much more efficient and effective to partner with technology companies that can provide these services quickly. A business would not spend time and resources to build a word processor – because several already exist that would meet the company's needs and possibly exceed what they can do internally. The same is true for healthcare. A technology partner can help you quickly advance your digital health strategy and allow you to focus on your patients and physicians.
5. Investigate and Launch
Finally, develop an implementation timeline and begin executing on key parts of the strategy. It is important to move forward and not spend years preparing for the use of technology that is available now. Begin with internal pilots. Launch an internal mobile health summit and get feedback from stakeholders with different roles in various divisions. Doing so will likely uncover new ways to use digital health, remote monitoring, EHR and telehealth data. This type of internal "crowdsourcing" can result in far more interesting pilots and innovative ideas than a top-down approach.Technology is shaping the future of healthcare success with digital health leading the charge. Telemedicine, remote monitoring and analytics are all key initiatives for healthcare companies to focus on in 2015.
Right now, the industry has the opportunity and the responsibility to use these new digital health innovations and technologies to build a better healthcare system. Some healthcare organizations are thriving in this new value-based healthcare landscape, while others are looking for solutions and partnerships to help keep them ahead of these changes. No one company has all of the right solutions lined up. And, that is okay. But, every healthcare organization needs to take steps forward or risk being left behind. The time to execute on digital health is now.
To download the full white paper, click here.