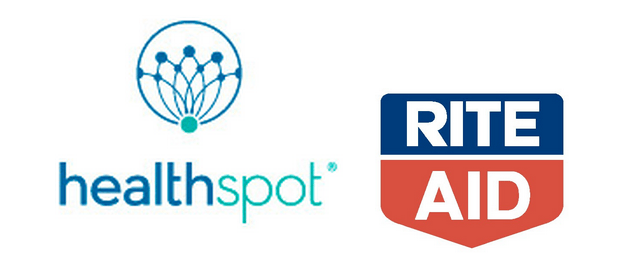 Rite Aid, one of the nation's largest drugstore chains, announced today the opening of HealthSpot's enclosed telemedicine stations inside 25 Rite Aid pharmacies in Ohio. Through the HealthSpot telehealth station, customers will be able conveniently access a variety of quality healthcare services including pediatric care. The HealthSpot telehealth stations are located inside select Rite Aid pharmacies in Akron/Canton, Cleveland and Dayton/Springfield. 
HealthSpot Station Overview
Through proprietary cloud-based telemedicine software, HealthSpot allows users to interact with nationally recognized providers in a private, 40-square foot station using high-definition videoconferencing and interactive medical devices including a stethoscope, an otoscope, a pulse oximeter and a magnascope. Each HealthSpot station is supported by a trained wellness attendant who can help the patient as needed from check-in to check-out.
Customers ages 3 and above can be treated for minor and common health conditions, including cold and flu, rashes and skin conditions, eye conditions, earaches and seasonal allergies. A record of the visit is maintained, ensuring seamless communication and continuity of care. The software platform also interfaces with insurance eligibility, electronic medical records and billing systems.
"Telehealth is a key driver in the revolution of our healthcare delivery system. HealthSpot brings together a set of unique technologies, devices and local healthcare providers to create a one-of-a-kind healthcare experience," said Steve Cashman, HealthSpot CEO. "We are thrilled to be working with Rite Aid to pilot this new healthcare model as the first retail clinic truly integrated with local health systems to expand access to affordable and convenient healthcare in Ohio."
In Ohio, customers will be able to connect with a network of medical professionals from Cleveland Clinic, Kettering Health Network and University Hospitals, including pediatric specialists from UH Rainbow Babies & Children's Hospital, as part of HealthSpot's Care Network. The Care Network, a key component in building the infrastructure necessary to offer affordable, quality healthcare in retail, enables clinicians to extend their reach into local communities and serve more patients with expanded hours through HealthSpot stations. Since opening in late May, HealthSpot stations at Rite Aid have served thousands of Rite Aid customers.
To find the nearest Rite Aid with a HealthSpot station and hours of operation, visit www.riteaid.com/HealthSpot. No appointment is necessary and most insurance will be accepted.