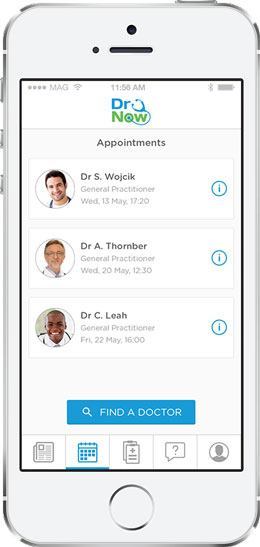 Dr Now, a telehealth app that dispenses and deliver prescriptions directly to patients' home or office has been approved by NHS England to handle NHS prescriptions using the NHS Electronic Prescription Service. Now available for Apple and Android devices, Dr Now offers instant access to UK registered doctors through video-based consultation, with NHS prescriptions dispensed and delivered in central London and overnight nationwide via its Now Pharmacy prescription hubs for free. Registered patients are prompted by text, email or phone when their prescription is due. 
Market research points to a likely proportion of over 60% of patients requiring more than two weeks waiting time for a non-urgent GP appointment. Some 340 million GP appointments are already made in the UK each year. The Dr Now app is set to make waiting times a thing of the past, offering patients a remote appointment to fit in with modern day lives at a time to suit them.
How It Works
Dr Now enables patients to speak to a doctor when you need to, making lengthy waiting times for appointments with your GP a thing of the past. Pre-planned consultations can be arranged for a time to suit the patient, ensuring their hectic working schedule and social life remain hassle-free. The multi-platform telehealth app lets patients speak to a male or female doctor of your choice at the touch of a button. This gives patients access to the diagnosis of a fully qualified GP on the move or from the comfort of your own home, through written or video-based remote video consultation. 
Once patients received their online diagnosis, their medication can be delivered to either their home address or office, with delivery during working hours easy to arrange. Dr Now provides the option of guaranteed next day delivery of private prescriptions and medicines, with those living in London eligible to receive their medication within 1 to 4 hours of diagnosis by a special courier service.
Led by Dr Andrew J Thornber, a doctor of medicine with over 20 years of practicing experience, the Dr Now team is trained in effective ways of providing diagnosis through remote appointments, with a strict security system maintaining patient privacy and safety.
"We are delighted by the NHS England decision to allow patients to use our platform for the time-efficient dispensing and delivery of their medications. This ensures that patients enjoy the freedom to choose the supply chain that suits them best without incremental costs to themselves," said Savvas Neophytou, Co-founder, CEO.