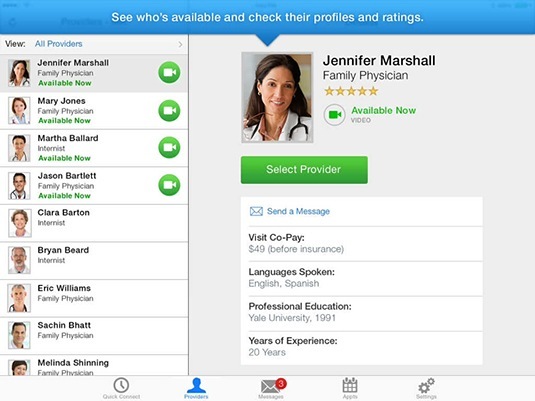 Cleveland Clinic is now offering 24-hour telehealth visits that allows Ohio-based patients to receive urgent care consults via smartphone, tablet or computer for just $49 dollars. The new telemedicine service called MyCareOnline is provided through Cleveland Clinic's partnership with telehealth platform provider American Well.
"It's tremendously more convenient, because people can be seen from home or work," said Dr. Peter Rasmussen, the medical director for distance health at Cleveland Clinic in an official statement. "For certain conditions, there's no need to drive anywhere."
How It Works
MyCare Online is designed to treat and diagnose acute symptoms such as cough, abdominal pain, diarrhea, fever and headaches. Depending on the seriousness of the symptoms, the medical provider can even prescribe medications. In comparison to the average urgent care visit which runs about $100, the $49 telehealth visit provides a low-cost solution for patients to quickly connect to medical providers anytime, anywhere.
Additionally, analytics have been pre-built into the platform to track and monitor how patients are accessing the service including the types of service requested, symptoms, length of consults and wait times. Rasmussen stated the analytics will also be utilized to determine the number of providers to make available for the service. The Clinic is in the process of training its own doctors and nurse practioners on the platform and is expected to be online within the next month or so.
Cleveland Clinic has future plans to offer nutritional and pharmacist consults for medication advice, as well as behavioral health counseling through MyCareOnline.
The service can be accessed at www.clevelandclinicmycareonline.org or via the Cleveland Clinic MyCare app, which can be downloaded from Google Play or the Apple app store.