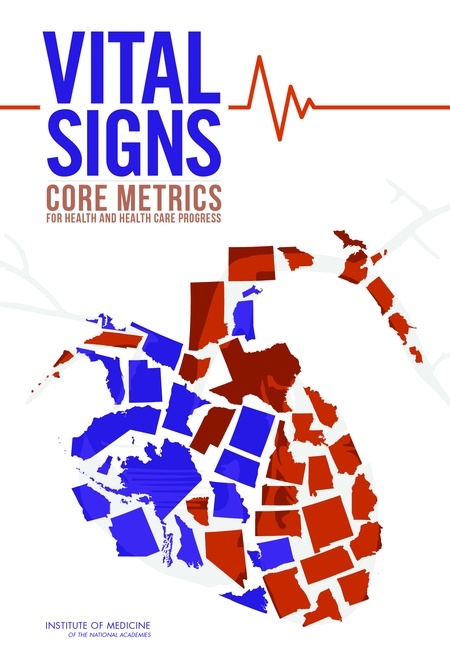 Health measurements are requested and required by organizations for various purposes; however, many of the individual measures in use today were developed without attention to the broader context. In some cases, measurements often overlap or are redundant and are implemented for a particular purpose and circumstance.
To resolve this gap, the Institute of Medicine (IOM) has outlined 15 "vital signs" or core measures for tracking progress toward improved population health management in the U.S. These fifteen core measures outlined by the committee are intended to increase transparency and simplify the process of collecting clinical and population-based quality information for providers who have been deluged with hundreds of different strategies for benchmarking their effort to improve patient safety, cut costs, and produce better overall health outcomes for patient community.
The fifteen measures for assessing Population Health Management include:
1. Life Expectancy
2. Well-being
3. Overweight & obsesity
4. Addictive Behavior
5. Unintended pregnancy
6. Healthy Communities
7. Preventive Services
8. Access to Care
9. Patient Safety
10. Evidence-based Care
11. Care that matches patient goals
12. Personal spending burden
13. Population spending burden
14. Individual engagement
15. Community engagement
According to the report, the emerging health information technology infrastructure could support a real-time measurement system for routine collection of information, and it provides an opportunity to measure what matters most, enabling goals to drive measures as a replacement for measures that drive goals. The report also calls for specific actions for different stakeholder groups to help ensure the adoption and implementation of the cores measures.
Specifically, the IOM recommends that the secretary of the U.S. Department of Health and Human Services should use the set of core measures to sharpen the focus and consistency and reduce the number and burden of measure reporting in HHS programs.  In addition, the secretary of HHS should develop and implement a strategy for working with other federal and state agencies and national organizations to facilitate the use and application of the core measure set.
The study was sponsored by the Robert Wood Johnson Foundation, Blue Shield of California Foundation, and California HealthCare Foundation. For more information visit, http://www.nap.edu/catalog/19402/vital-signs-core-metrics-for-health-and-health-care-progress