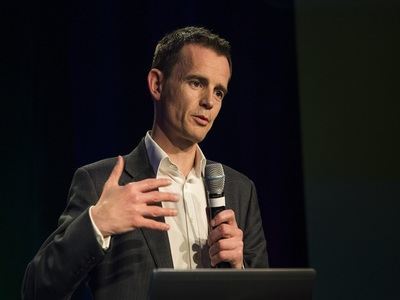 Professor Brian Caulfield, a connected health researcher from University College Dublin (UCD), has won the 2015 Google Wearables in Healthcare Pilot Challenge for his successful orthopedic rehab surgery platform project using mobile phones, Silicon Republic reports. The challenge held last week at Google's headquarters in Cambridge, Massachusetts was organized by Medistro in partnership with MedTech Boston and Google.
Prof. Caulfield's wearable orthopedic rehab support platform provides real-time feedback on rehab exercises and activities for patients undergoing elective orthopedic surgery. Additionally, it provides a gamification aspect to the exercises to improve the patient experience. His winning pitch was selected from 90 entries, who delivered a pitch to a team of judges on proposed uses for wearables not yet integrated into the healthcare system, followed by a Q/A session. His idea stems from his research program's focus on exploiting technological advances to enhance human performance in the fields of connected health and sport at the UCD School of Public Health, Physiotherapy & Population Science
"Winning this challenge will help to validate our solution of using the sensors in smartphones to assist people undergoing orthopedic rehabilitation, said Prof Caulfield. "Our idea addresses the unmet needs that patients and clinicians cite as the major challenges to successful rehabilitation outcome and satisfaction with care. By using a mobile phone as a sensing device, we are removing the need to purchase additional sensing hardware to provide patients with a solution to their problems, with all the associated costs that this involves," adds Prof. Caulfield.
Prof Caulfield is also Dean of Physiotherapy at UCD and is a director of the Insight Centre for Data Analytics. His team working on this project includes two physical therapists, Dr Diarmaid Fitzgerald and Dr Oonagh Giggins, both PhD graduates from his program at UCD, and Professor Tahar Kechadi, UCD School of Computer Science and Informatics.