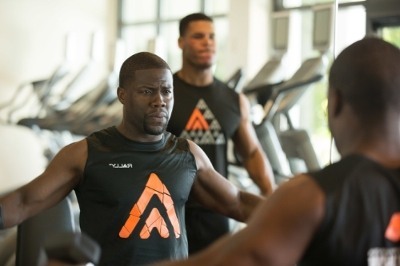 Rally Health Inc., a leading developer of consumer digital health engagement tools is partnering with Kevin Hart, actor, comedian and health advocate to become Rally's first digital health ambassador. As part of the collaboration with Rally Health, Hart will encourage consumers to take a more active role in their health.
During his "WHAT NOW" comedy tour, Hart will urge his fans to move more, eat better, and take better care of themselves. Like Rally Health, Hart believes that even simple things like laughing can improve your health by reducing stress, relieving pain, and enhancing your mood.
"I really do believe that laughter is the best medicine. Not only does it make you feel good, but I love knowing that it's actually good for you, too," said Hart. "I love the Rally Health mission and couldn't be more excited to work with the Rally Health team to help consumers laugh a little more and make better decisions about their health and wellbeing."
Rally Health's Health Ambassador Program
Rally Health's Health Ambassador Program aims to educate and inspire people to make better, more informed decisions about their health. The program will leverage Rally's engagement platform and incentives to support long-term lifestyle and behavioral changes that support better health. 
Its flagship product, Rally, a HIPAA-compliant platform leverages the power of personal health data, social networking, and gamification to drive behavior change that is tied to value for the consumer. Available to consumers through health plans and employers, Rally is a multi-payer, multi-channel platform. The company is a primary provider of digital wellness solutions for UnitedHealth Group and is expanding its customer base through relationships with institutions like Health Alliance Medical Plans, with over 5 million people already on boarded to the platform.
"Kevin's passion for fitness and laughter makes him a natural advocate to inspire people to adopt healthier habits," said Rally Health founder and CEO Grant Verstandig. "At Rally, we often talk about how important it is to live the Rally mission, including moving more and eating better, and Kevin lives the Rally mission every day. Now through our partnership, Kevin can extend his passion for wellness to his fans and help them make better decisions and live healthier lifestyles with Rally at their fingertips."
Rally Health's flagship product is Rally SM, a digital health platform that gives consumers the tools, information, and communities they need to better manage their health and wellness. Rally includes a proprietary and patent-pending online health survey that benchmarks a consumer's activity level and health status in an intuitive interface. Based on the consumer's self-reported and digitally captured data, Rally engages consumers through personalized recommendations, rewards, coaching, tools, community, and content that promote healthy lifestyle behaviors.
As part of this partnership, Rally Health is the sponsor of Hart's comedy tour that will allow Rally Health and Hart to bring important health information and access to fun and interactive tools to support healthy habits directly to each city and encourage community members to keep health and wellness top of mind.
To learn more, people can visit www.rallyhealth.com or go to #RallywithKevin on Twitter to join Hart in health challenges, conversations, and other surprises throughout the year.