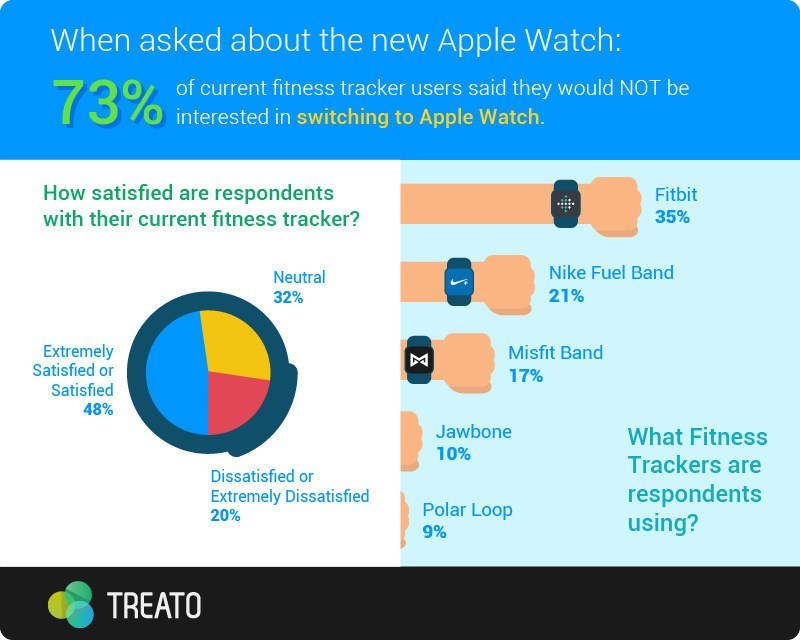 73% of current fitness tracking users would not consider switching to the Apple Watch for fitness tracking, according to a recent Treato survey of 8,700 users of fitness trackers. When asked if they would consider switching to Apple's new Watch for fitness tracking, 48% are either extremely satisfied or satisfied with their current device. The survey findings reveal that despite the hype surrounding the Apple Watch release, the company may face a significant hurdles in converting existing fitness tracker users. 
Of the 8,700 consumers surveyed, 35% were using Fitbit, 21% own the Misfit band, and close to 17% claimed the Nike Fuel band as their tracker of choice.
"We recognize that the Apple Watch serves a variety of purposes," says Ido Hadari, CEO of Treato in a statement, "but when it comes to those looking for solutions to drive health, it seems that people like what they already have.  It will be interesting to see what role the Apple watch will play in the evolving mobile health environment in general, and within the Apple HealthKit framework specifically." 
Market research firm Parks Associates also predicts that smart watch adoption will remain low since nearly 60 percent of U.S. broadband households already own some kind of personal health and wellness device, such as a digital weight scale or glucometer. 
"In the case of smart watches, these devices are regularly marketed as companion or 'tethered' smart products. Companies need to rally consumer interest in smart watches by educating them on the unique experiences and benefits of these and other wearables. Otherwise, the majority of consumers may not see the reason to purchase another device that has similar, if not the same, capabilities as their smartphone. said Tejas Mehta, Parks Associates' research analyst. 
A recent Parks Associates report released in the fourth quarter of 2014 finds 7% of U.S. broadband households use a GPS watch to track a wearer's location and 5% use a sports watch with a built-in heart-rate monitor.