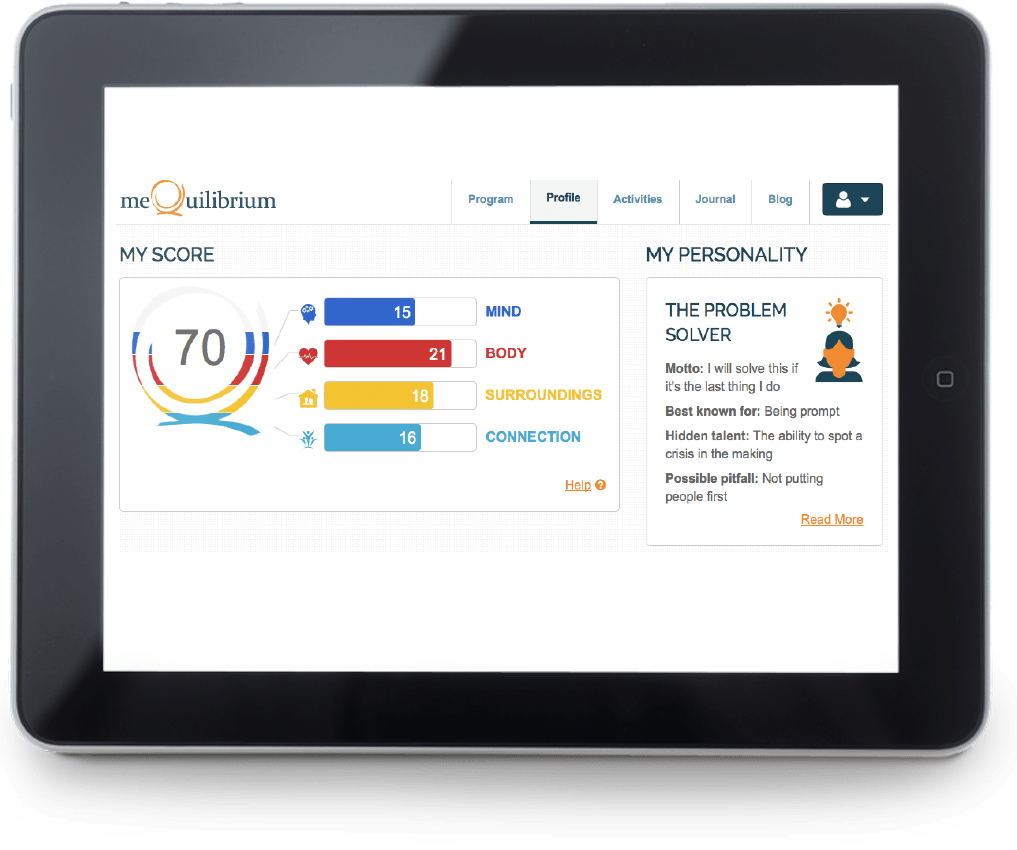 Studies show that up to 95% of U.S. workers experience moderate to severe stress, propelling absenteeism, productivity, injury and turnover costs. These factors cost U.S. businesses an estimated $300B annually, and healthcare expenditures are estimated to be 50% greater for high-stress workers.  
Today, meQuilibrium, an online platform that beats stress, builds resilience and promotes healthy behavior, announced that it raised a $9 million Series B financing round led by Safeguard Scientifics with participation by Chrysalis Ventures and other investors. meQuilibrium will use the capital from the funding to accelerate their sales and marketing, and expand product development.
meQuilibrium is the only company that offers an individualized, online stress management program based on building resilience—defined as the capacity to rebound or bounce back from adversity, conflict, failure and also positive events, progress and increased responsibility. The science-based, clinically validated solution is based on decades of research at the University of Pennsylvania, which reveals that stress and resilience are linked. Furthermore, researchers found that coaching can improve resilience, providing a lifetime of benefit including reducing the effects of stress.  
Large employers, including Comcast, HP, Grant Thornton, Nemours and Meredith, use meQuilibrium as part of their human capital strategies to empower their employees to manage stress, to boost positivity and performance and to make healthier choices. Designed for mobile and desktop use, meQuilibrium delivers a scalable software-as-a-service (SaaS) platform that guides users through a journey that begins with a personalized assessment to a long-term roadmap focused on critical skills to boost resilience.
Additionally, intelligence from the meQuilibrium users, in aggregate, fuels a new generation of helpful metrics and insights on workforce well-being that can inform human capital strategies and decision-making.
To date, the company has raised a total of $14.3M in funding.