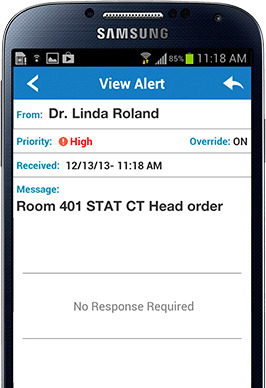 Vocera Communications, Inc., a provider of intelligent, real-time communication and collaboration solutions for mission-critical mobile environments, announced a two-way clinical integration with Epic's EHR system, furthering the company's commitment to connectivity across the continuum of care. The enhanced functionality enables interactive communication between EHR systems and the Vocera Communication System.
This will be the first of several two-way clinical integrations with EHRs, and furthers Vocera's commitment to increasing the level of connectivity between the company's award-winning communication system and clinical systems. 
"Real-time communication and collaboration requires robust, two-way integrations between EHRs, clinical systems, and our communication platform," said Brent Lang, CEO of Vocera. "Our unique capabilities and on-going roadmap of integrations between the EHRs and Vocera solutions accelerates our customers' ability to deliver better care."
Integration Benefits
As a result, Vocera worked with Epic to collaborate on a two-way integration for environmental services. This functionality makes it even easier for housekeepers to provide real-time updates for bed cleaning status and availability, therefore improving patient flow. This innovative technology enables housekeepers to use voice commands on their Vocera device to respond to messages from the EHR in order to update their work status, while also providing time-based data needed for ongoing staff efficiency and workflow performance.
For team members, this new functionality from Vocera will simplify the user's experience and increase the likelihood of more timely updates to the bed management system, while providing better visibility for management, and helping improve the patient experience. Vocera aims to make these new solutions available for use with a variety of additional EHR providers and additional workflows as customer demand grows.
The company has also added the ability to access the Vocera Collaboration Suite directly from EHR desktop and mobile applications. This maintains communication context about the care team and saves valuable time by reducing the need to manually switch between applications to contact other members of the care team.