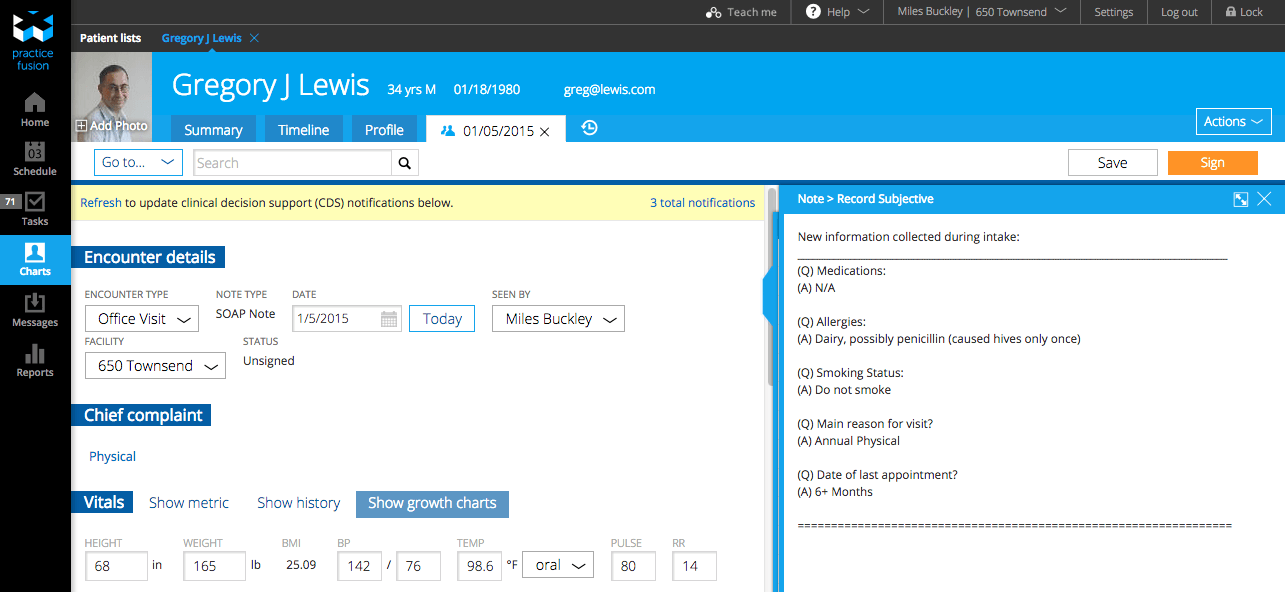 Practice Fusion, a cloud-based EHR for doctors and patients has released Online Patient Check-In – a new service that lets patients complete traditional check-in forms from their phone, tablet, or computer before getting to the doctor's office. By digitizing this part of the patient's office visit experience, Practice Fusion is freeing patients from what is considered to be the most redundant and cumbersome part of the visit with their doctor by automatically delivering the information before the visit.
For doctors, this technology allows them to review their patients' issues before their visit, giving them the opportunity to have meaningful one-on one conversations with their patients during their time in person. In addition, it also eliminates error prone re-keying of hundreds of pages of intake forms by front office staff daily.
Online Check-In benefits include: 
– Replaces the average 3-7 pages of paper intake forms patients fill out at the doctor's office
– Eliminates the need for office staff to re-key hundreds of pages per day
– Practice Fusion will remove an estimated quarter billion pages of paper in 2015
On average, a physician waits just 18 seconds before asking questions during their patients' visits, which rarely is enough time for patients to finish explaining their symptoms. With a recent study showing that "three in ten sick Americans say that a doctor, nurse, or other health professional did not spend enough time with them," every second of the encounter is crucial for patient-provider communication. Giving patients the opportunity to share all relevant information before the start of their visit allows doctors access to more information that can better inform their assessments of patients during the actual office visits.
A patient can provide medical history, demographics, insurance information, and reasons for the visit in an online form, which is then automatically provided to the doctor for review and incorporated into the patient's record within the Practice Fusion EHR. Doctors also have the ability to customize the check-in with questions specific to their practice, as well as specialty specific questions.
"Last year doctors facilitated over 56 million patients using Practice Fusion's EHR," said Ryan Howard, founder and CEO, Practice Fusion. "As a result of the delivery of this functionality, we will eliminate the need for our patients to fill-out hundreds of millions of pages of paper forms over the next year, and more importantly, make sure that this valuable face-to-face time is devoted to talking with a patient about exactly what that patient wants to discuss about their health concerns."
 For more information, view a demo here.