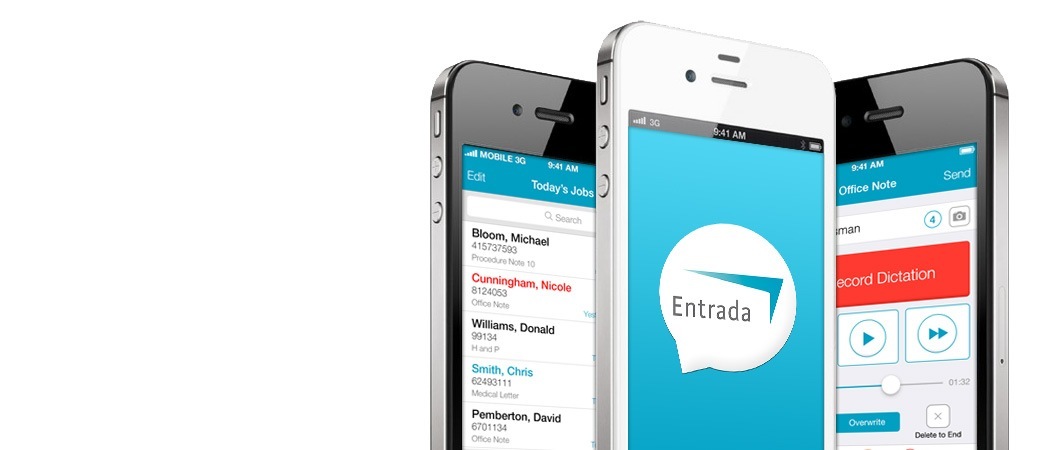 Entrada, a provider of integrated mobile EHR solutions has announced the release of its iOS software development kit (SDK), enabling healthcare IT partners to integrate Entrada's provider productivity and care collaboration capabilities within their own mobile applications. Partners developing with the Entrada SDK can enhance the value of their product solutions for new and existing clients, leveraging Entrada's mobile documentation functionality and seamless EHR integration.
Software Development Kit (SDK) Overview
Entrada's SDK is comprised of an Objective-C library that includes all necessary code for partners' developers to implement and interact with the Entrada documentation and interface platform through its application programmer interface (API). Entrada's iOS SDK enables partners to take advantage of many features, including but not limited to:
– Entrada's ExpressNote Dictation technology inserts the finished narrative directly into individual text fields within your EHR templates. Entrada gives your providers the freedom to dictate within EHR templates without being inside the EHR.
– Patient Clinical Display, a a fast and easy way to view key patient clinical information – from anywhere, at anytime – with a mobile device. Providers can now quickly access the critical patient data they need, synced in real-time from the EHR, to capture more detailed and robust narrative that improves both documentation quality and overall patient care.
– Mobile Image Capture, a quick and secure way to enhance the quality and robustness of documentation by enabling caregivers to easily capture patient images from their preferred mobile device, with seamless delivery back into the specific patient's encounter template within the EHR (or other shared network).and many other features native to Entrada's mobile documentation platform.
For example, with Entrada's SDK for iOS, partner organizations can power their own iOS mobile/tablet applications with features like mobile dictation, complementing their existing user experience with the ability to dictate without switching applications and disrupting workflow.
To learn more about Entrada's SDK, click here.