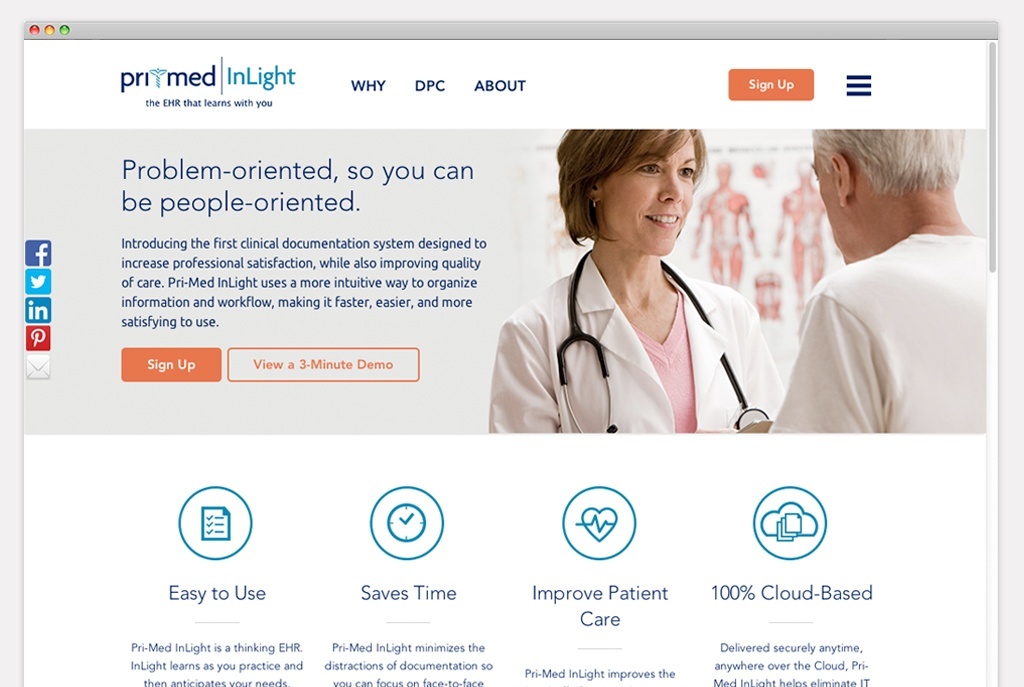 Pri-Med introduces their EHR For direct primary care to help physicians make transition from traditional fee-for-service to fast-growing membership medicine
Pri-Med, a provider of professional medical education with a community of more than 260,000 clinicians, has announced the introduction of their EHR for direct primary care with a free 60-day trial.  InLight EHR, Direct Primary Care (DPC) Edition is a cloud-based clinical documentation system designed specifically for Direct Primary Care, one of the fastest-growing segments of U.S. medicine. 
DPC is primary care offered directly to consumers and employers without insurance administration. It is an umbrella term, incorporating various health care delivery systems that involve direct financial relationships between patients, employers, and health care providers. This model is being embraced by clinicians across the U.S. because they want to spend more time with patients and less time on billing.
Free 60-Day Trial and First Six Months Free
Pri-Med is offering DPC practices a free 60-day trial of the full version of InLight EHR. After the trial period, the first six months of the cloud-based service are free with a commitment to a one-year contract. The introductory offer frees up vital cash flow for physicians who are converting to a membership medicine/direct care model. Membership management is built into InLight EHR at no additional cost, and can be customized to fit different types of membership structures, whether age-based, tiered or a combination of both. 
"The motives that drive a primary care physician to adopt the direct care model — more time with patients, a more satisfying professional life — are the same reasons why we built InLight EHR," said John Squire, President and COO, Amazing Charts, a division of Pri-Med. "By learning how a physician individually practices and then offering suggestions that reduce keystrokes and needless searching, InLight actually gives time back to physicians for engaging with patients."
InLight EHR Key Features
InLight EHR increases professional satisfaction and improves patient outcomes by enabling clinicians to deliver higher quality care more efficiently. The key breakthrough is a problem-oriented workflow that organizes information more intuitively, making it faster and easier for clinicians to use. For example, InLight EHR achieves a new level of intelligence by learning how clinicians practice as they work. It then organizes and presents information in a manner that accelerates documentation and frees clinicians to interact with their patients.
InLight EHR is priced at $199 per month per provider. For more information and to learn more about starting a free 60-day trial, please visit www.inlightehr.com.