Is digital health an investment bubble set to burst? Rock Health's Malay Gandhi weighs in.
The ball may have dropped on another new year, but 2014 was known as the year venture funding picked up the ball and ran for it— when it came to digital health. According to a recent report released by Rock Health, a record total of more than $4 billion was poured into the space last year, and it's poised to keep on growing in 2015.
Malay Gandhi, Managing Director at Rock Health

"This is not a bubble," said Malay Gandhi, managing director at Rock Health who leads and works closely with portfolio companies. "We are in the middle of an industry where everyone is frustrated with the status quo, be they a patient, provider or payer. For the last 20 years, the technology penetration hasn't been there. Now that it's emerging, we see companies providing real value to their customers. There are real sustainable businesses underneath this movement."
It's hard not to be leery of a possible digital-health "pop", especially since venture markets exceeded $10 billion in a single quarter last year for the first time since the notorious dot-com era. However, Gandhi points out that growth during the dot-com craze exceeded nearly $30 billion in a single quarter, making venture market growth appear swift, yet comparatively conservative.
As Gandhi stated, it's an inherent dissatisfaction in healthcare driving digital health's growth; 258 digital health companies each raised more than $2 million in 2014. According to Rock Health's report, the top six categories for digital health funding last year (accounting for 44 percent of all digital health funding in 2014) were: Analytics and Big Data ($393M), Healthcare Consumer Engagement ($323M), Digital Medical Devices ($312M), Telemedicine ($285M), Personalized Medicine ($268M), Population Health Management ($225M).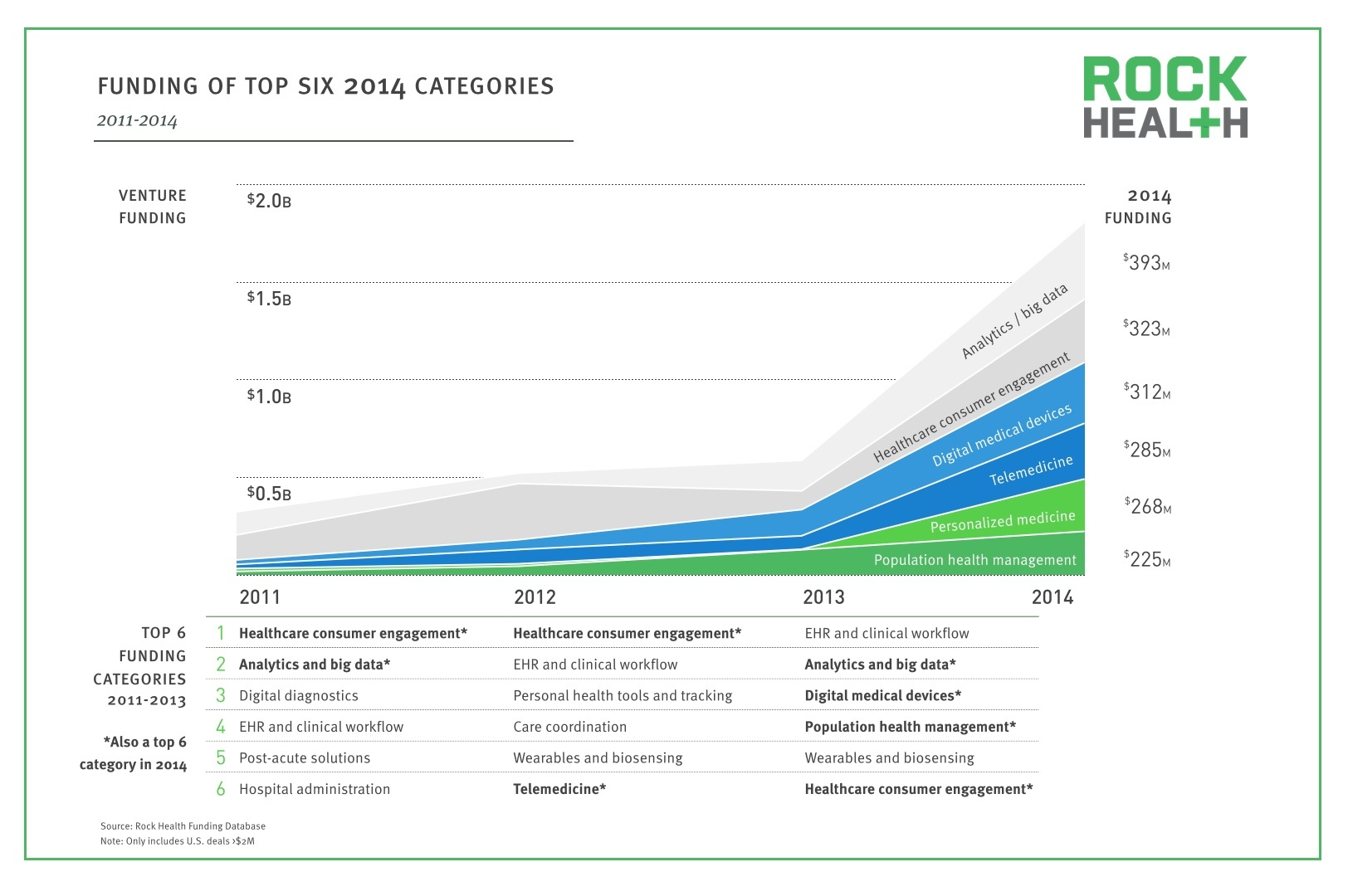 Mapping out the prospective growth categories for next year is fairly straight forward; find the sources of need, and you'll have a pretty good idea of where the growth will continue. Therefore, we asked Gandhi on his perspective of what categories will be in bloom next year.
Here are five digital health categories poised for significant growth in 2015:
1. Telehealth/Telemedicine:
Telemedicine was the fastest growing category in digital health last year, increasing 315 percent with nearly $300 million in aggregate funding, fueled by both new and established entrants. Two core issues surrounding the continued growth of telemedicine are licensure and reimbursement. According to a report from the American Telemedicine Association (ATA), 22 U.S states received an A overall rating for physician practice standards in licensure. "We are seeing a lot of positive moment there" said Gandhi.
Additional positives include ATA's developed accreditation program for health providers who offer patient consultations, and CMS' agreement to reimburse seven new covered services for telehealth, which began this year. Still, there are challenges in licensure that remain to stymie some of telemedicine's potential growth next year. There are still no federal telemedicine standards in the U.S despite the more than 40 telehealth-related bills in Congress. "You can never time legislation, but the overall trend is favorable," said Gandhi.
Reimbursement growth is a bit slower, but the uptake and adoption of telemedicine service providers by private insurance companies is a promising sign of things to come. Gandhi says he would be surprised if every exchange-based health plan didn't have telemedicine in its network within the next few years.
"The network will be narrow and aligned to specific telemedicine providers, but it will be there," he said. "It will be interesting to see what happens when consumers who have grown to favor certain consumer telemedicine services are denied access to those providers by their insurance providers," he said.
2. Payer Administration & Hospital Administration
High operating pressures on razor-thin operating margins will continue to push growth in payer administration in 2015. In the face of MLR caps, cutting administration costs is essential for many payers, as billions of bills continue to be passed back and forth with gross inefficiency. "Looking at the companies we've seen, most payers need to cut their administrative structure by 15 to 50 percent to maintain neutral profitability under the MLR cap," said Gandhi. "There is significant pressure now, because payers can no longer pass off those operational costs onto their customers."
Hospital administration will continue to see growth for similar reasons, as many providers are willing to make short-term administrative gains to fund long-term IT investments that they are mandated to implement. But Gandhi says don't expect to see a lot of growth in EHRs specifically.
"I don't see EHRs as a growth category for funding," he said. "However, I think what we will see is a lot of funding around clinical workflow, so everything that lives beneath, above, or around those EHRs, from the highly clinical to the more administrative-based tools."
Although the continued libration of data from EHRs continues to drive growth in Big Data and Analytics, Gandhi thinks the EHR market itself is pretty mature. That being said, it is possible that a cycle of EHR replacement could occur. According to a survey conducted by Rand Corporation, 61 percent said that EHRs improved quality of care, but 43 percent stated their EHR system slowed them down, and only 35 percent stated that their EHRs improved their job satisfaction.
"I think we continue to see tremendous growth surrounding EHRs for a while," said Gandhi. "But even with the dissatisfaction rate around EHRs, I am not sure providers are going to invest in replacements, especially if they continue to invest in the solutions that work with their existing EHRs. Don't expect to see growth there, but definitely expect to see continued growth around them as a result."
3. Health Consumer Engagement
To be clear, the category of consumer health engagement isn't about using an app that your doctor prescribed to engage you in your care. This category pertains to the purchasing and/or selecting of healthcare services and insurance by consumers. It's expected to see substantial growth, especially now that consumer-directed health plans, including high-deductible health plans (HDHPs), are on the rise.
According to a survey conducted by the National Business Group on Health, large employers are projecting a 6.5 percent increase in healthcare costs in 2015. As a result, many are opting to offer consumer-directed health plans as a way to mitigate those increases. Eighty-one percent of large employers in the survey said they would offer at least one consumer-directed plan in 2015, up from 72 percent in 2014. About one-third of employers (32 percent) said consumer-directed health plans will be their only offering in 2015.
Those changes will finally crest the long-term trend of consumer engagement, now that that upwards of 30 to 40 percent of healthcare costs are coming out of consumer's pockets, along with the mandate that you must purchase insurance or face a penalty.
"They are being forced into the market," said Gandhi. "The nice thing about that is they are forced to realize how terrible it is. For the last five years, they have been buying things they love online with ease. For many, buying health insurance on Healthcare.gov has been one of the worst purchasing experiences they've ever had. Their dissatisfaction is going to push growth in multiple areas in this category from health services to purchasing processes. That's why this category holds some of the greatest opportunities out there."
4. Digital Therapies
Digital Therapies experienced break-out growth in 2014 that will continue to expand this year, according to Gandhi. A number of companies to emerge from this category include Omada, Propeller Health, Lantern, Wellframe, and Wildflower Health, demonstrating that you can use software to deliver clinical outcomes. Many of the companies were seed funded two to three years ago and ran effectiveness studies that are now being used to commercialize their products, which has the makings for an effective business model in the making not unlike the models of drug makers.
From mental health services to disease management interventions, digital therapies could gain a lot of traction as population health management and reimbursement shadow fee-for-service models.
"Seventy-five percent of our healthcare costs are tied to chronic diseases," said Gandhi. "Eighty percent of heart disease and diabetes is preventable through lifestyle modification. So what we need to see, is more of the software-based programs that can modify behaviors. As these young companies iron out the business model, I think we will see a lot happen here."
5. Personal Health Tools/Tracking
Media was abuzz last year as 2014 brought many promises for growth in the personal health tools tracking category. However, Gandhi says this category shows continued promise but the code hasn't been cracked as to how to tap in and dominate the opportunities there just yet.
If you look at relative frame work when it comes to daily-active users vs. monthly-active users for companies like Facebook, for example, you are considered an outlier company if you are at 50 percent and successful at 30%. That lower number isn't  going to work in healthcare, says Gandhi. "When it comes to the main three areas of wellness (diet, exercise, and sleep) to achieve success in this area, you need to see those numbers north of 40 percent."
Despite that fact, Gandhi says the potential is what will continue to drive investment in this category. Solutions surrounding daily mental-health activities may be a possible growth area for one (similar to those emanating in the digital therapies category), along with sleep, which has also been less penetrable.
"We haven't figured out how to create that all-essential tracking app or device just yet, which is why I think the growth will continue. There still is a very high unmet need out there," said Gandhi.
If Gandhi's assertions are correct, 2015 is poised be another banner year for digital health. Still, it's hard not to wonder how many innovators will try and fail as they seek to penetrate the market. However, if hopes are as high as these investments, we stand to see a lot of gains in 2015. Digital health appears to be venture capital's new bellwether—a fitting symbol to ringing in a new, and perhaps prosperous, New Year.