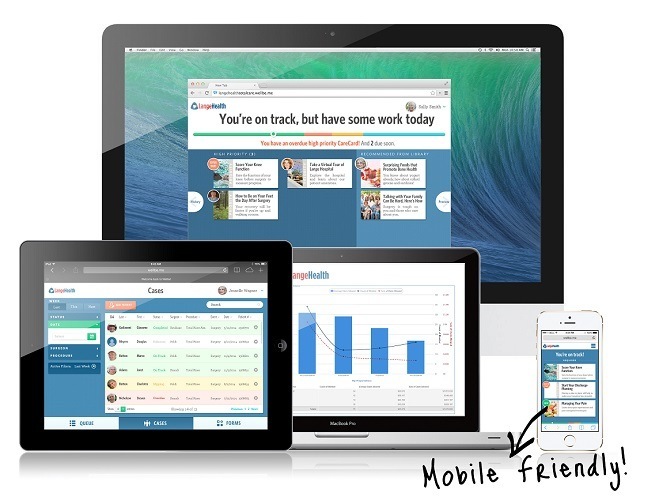 Wellbe, provider of the cloud-based Guided CarePath® that empower patients to learn and take the actions required to achieve better outcomes at lower costs has closed on a new $2.42M investment round. The round included investments from Terrence Gibbons, former CEO of Pharmacy OneSource; Greg Baldwin, former CEO of Baxa; Mark Bakken, former CEO of Nordic Consulting; and Philip Seeger, CEO and President of Medcor, among others. The company will use the funding for product improvements and expanded marketing and sales efforts. 
Wellbe helps hospitals adapt to new market expectations for value-driven care by leveraging patient navigation to reduce risk, improve efficiency and increase competitiveness. The cloud-based platform combines vital tools for patient engagement and care coordination to help patients and care teams achieve satisfying outcomes by actively engaging them with step-by-step guidance along their journey of care.
Wellbe was recently recognized as the Patient Engagement category winner in the 2014 Fierce Innovation Awards byFierceHealthcare. Earlier this year, Butler Health System was given a CI+T Accelerator Award by Clinical Innovation + Technology for their use of Wellbe. Additionally, Avera McKennan Hospital and Wellbe were featured in the December issue of OR Manager for their innovative approach to orthopedic pain management. The recognition and visibility have helped the company double its customer base in six months.
"Healthcare is still too fragmented and complex. Visionary hospital leaders across the country transforming their organizations for value-driven care have determined that a navigated patient experience can deliver good results in reduced risk and improved efficiency," said James Dias, CEO of Wellbe. "More importantly, our patients are extremely satisfied with their online experience. This new investment will grow our team and help spread these best practices and benefits to more patients across the industry."
The new investment round brings the total company funding to date at $4.2M.
In addition to the funding announcement, Methodist Health System has fully integrated Wellbe's Guided CarePath online program with all aspects of their Methodist Dallas surgery program to help patients navigate joint replacement surgery. The hospital is the first in North Texas to use a new web and mobile approach that blends patient navigation technology with nursing coordination to help patients be active participants in their care.
Methodist Health System offers complete care for patients needing surgery to replace painful hip or knee joints damaged by injury, deformity, or degenerative diseases such as arthritis. The Methodist Joint Academy has helped prepare hundreds of patients to achieve the best possible surgical outcome, a speedy recovery, and a faster return to normal daily activities.
How it Works
A patient's care plan is accessible 24 hours a day via the web on any device. Methodist Dallas staff members enroll patients when they are scheduled for surgery, and the program guides patients step-by-step through preparation, hospital stay and recovery from surgery. Everything patients need to know, do and keep track of is conveniently provided to them at just the right time.
Enrolled patients get online access to all the information they need right when they need it along the journey of care, including:
Timely guidance on what to do and what's coming up next

Checklists and reminders to make the surgical journey less stressful

Convenient check-ins to make sure they stay on track with their care plan

Ability to do planning and complete forms online to simplify paperwork

Surveys to provide the surgeon and orthopedic team with important feedback

Updates delivered to family members as patients progress through the program
"The added care navigation – available anywhere and anytime – helps improve outcomes, reduces risks of setbacks, and enhances the patient experience," said James Dias, CEO of Wellbe. "Methodist Dallas is taking a bold step into the future of connected care by using advanced engagement techniques to meet patients' demand for increased involvement and collaboration in their healthcare."