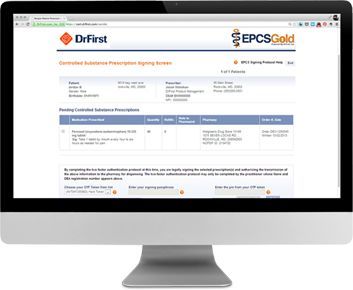 CureMD, a cloud based EHR provider for physician practices has selected DrFirst to provide controlled substance e-prescribing (EPCS) capability to users of CureMD EHR system. 
Partnership Details
CureMD is adding DrFirst's EPCS GoldSM 2.0 controlled substance e-prescribing functionality to help providers nationwide prevent the epidemic of prescription drug abuse in the U.S. Additionally, CureMD EHR is used by a significant number of providers in the state of New York and its EPCS functionality will support compliance with New York's Internet System for Tracking Over Prescribing Law (I-STOP), which requires electronic prescribing for all legend and controlled drugs beginning March 27, 2015.
Key Benefits
Controlled substance prescriptions represent approximately 10 percent of all prescriptions issued in the U.S. Technical requirements have slowed the adoption of EPCS for providers. EPCS offers significant social benefits to the greater healthcare system as it has been proven to assist providers in reducing prescription drug abuse and drug diversion, as well as in identifying 'doctor shoppers' attempting to attain controlled medications, such as hydrocodone combination drugs which are abused at epidemic levels.
DrFirst is a market leader in EPCS and currently processes over 60 percent of all controlled substance electronic prescriptions nationwide. Recent data shows that provider adoption of EPCS is now increasing significantly and has increased by more than 200 percent in the last three-month period, August through October 2014.
"Controlled substance management should be top-of-mind for EHR, EMR and HIS system vendors," said G. Cameron Deemer, president of DrFirst. "For those with New York providers, they must allot time not only for the integration and implementation of the EPCS functionality itself, but also for the identity proofing process that each provider must complete. CureMD moved quickly to ensure its New York users will be ready to meet the requirements of the I-STOP mandate, which means CureMD is also ready to support providers in any of the 49 states and the District of Columbia where EPCS is now legal."
For more information about EPCS, download DrFirst's report, "The Evolving Landscape for Electronic Prescribing of Controlled Substances (EPCS) — An Industry Briefing for 2014," which is available athttp://go.drfirst.com/EPCSreport2014.