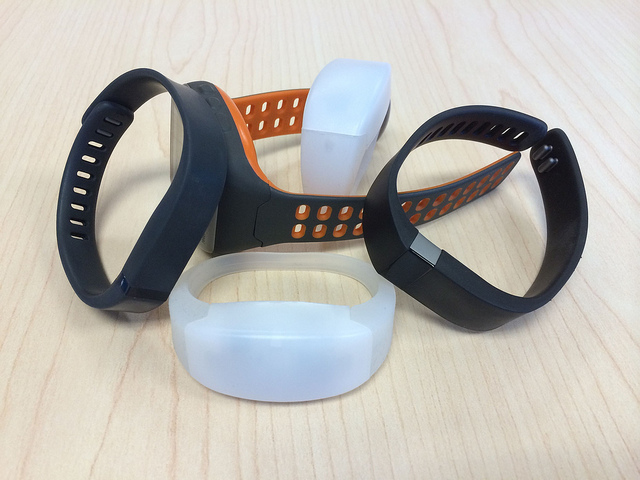 Fitness devices and wearables will almost triple by 2018, compared to an estimated 19 million in-use this year, according to a new report by Juniper Research. Juniper Research is projecting that fitness devices will remain the dominant wearables segment until 2018, driven by intuitive use cases and lower retail prices. However, the broader appeal of smart watches with the upcoming Apple Watch will mean that they will be used more frequently in later years.
Fitness Devices Market Stratification and Cannibalisation
The report, Smart Health & Fitness Wearables: Device Strategies, Trends & Forecasts 2014-2019, observed that the diversity of fitness wearables will bring about two classes of fitness device. Basic trackers, like the $13 Xiaomi MiBand, will sell on their value, while more complex devices, such as the Fitbit Surge, Microsoft Band and Samsung Gear Fit, will offer additional features beyond fitness, such as notifications and music control.
More capable devices will increasingly compete with smart watches, especially those that offer similar notification functions, like the MetaWatch M1 and Martian Notifier. However, more aesthetically-minded consumers will still choose watches, as fitness-focused devices will prioritize function over form. The report confirms Gartner's recent report that sales of health wearables is expected to decline in 2015 driven by an overlap in functionality between health/fitness werables and smartwatches. 
Wearables to Enable Self-Help Healthcare
The report anticipates that sales of healthcare-focused wearable devices will increase, from wearable ECGs (electrocardiograms) to glucose monitors and insulin pumps. While they are currently used in areas where self-medication is the norm, capabilities will expand to allow monitoring by healthcare professionals in other areas. This will only happen once questions around regulation are answered, however.
Other Key Findings Include:
Fitbit will remain the leading player for fitness tracking, although their decision not to integrate with Apple Health may harm their market share in the short term.

With engagement a key pain point for fitness wearables, start-up GOQii is pioneering a new service-based business model, offering contact with fitness coaches alongside their device.
The whitepaper, Fit for the Future with Wearables is available to download from Juniper Research's website together with further details of the full report and the attendant Smart Health & Fitness Wearables IFxl (Interactive Forecast Excel).