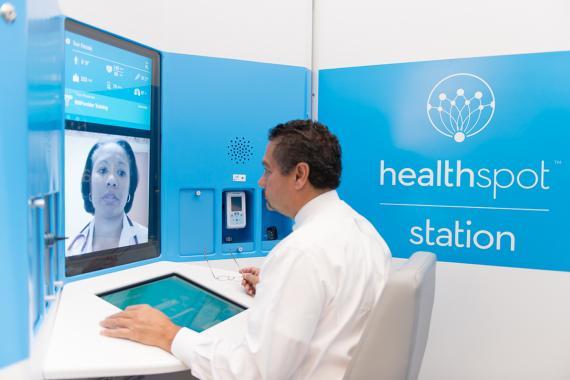 Florida Blue and Miami Children's Hospital have partnered to offer HealthSpot's telehealth kiosks at the company's retail center in Miami for Florida Blue members. The HealthSpot® station – a private, 8-foot-by-7-foot telehealth kiosk is equipped with a stethoscope, scale, blood pressure cuff, pulse oximeter, thermometer, otoscope and magnascope to stream medical information to the provider and patient. The station is also supported by an on-site accredited medical attendant. The average visit takes just 15 minutes, offering patients convenient and affordable access to doctors. 
Telhealth Services for Florida Blue Members
Florida Blue members will be to set an appointment or walk into the Miami retail center  to utilize the HealthSpot station for primary care services such as:
– Fevers
– Cold and Flu
– Rashes and skin conditions
– Pinkeyes and Styes
– Earaches
– Sore Throat
– Sinus Infection
– Upper Respiratory Infections
– Seasonal Allergies
For Florida Blue, this is the latest in a series of initiatives across the state, focused on innovation and collaboration to deliver higher value for its members.While the telehealth kiosk is not a replacement for emergency or hospital care for serious conditions, Florida Blue believes these kiosks will provide members with a convenient and affordable option to access care. 
Recent Announcements
HealthSpot recently announced it will pilot HealthSpot's their telehealth kiosks in select Rite Aid Ohio stores in Cleveland, Akron, Canton, Dayton and Springfield. Rite Aid customers who use the telemedicine kiosk will be able to connect with a network of physicians including staff at the Cleveland Clinic and other health systems in Ohio. The company also received a strategic investment from Xerox this month. 
Over the next five years, HealthSpot plans to deploy their telehealth kiosks to retail pharmacies, large employers, long-term care centers and emergency departments throughout the nation.