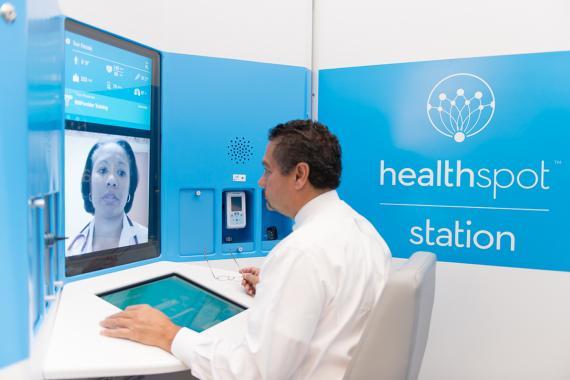 Rite Aid Corporation announced on Friday it will pilot HealthSpot's enclosed telemedicine kiosks in select Ohio stores. The partnership marks the first major partnership with a nationwide pharmacy chain for the Dublin, OH based telehealth startup. The initial pilot markets for Rite Aid are Cleveland, Akron, Canton, Dayton and Springfield.
Rite Aid customers who use the telemedicine kiosk will be able to connect with a network of physicians including staff at the Cleveland Clinic and other health systems in Ohio.
"Adding HealthSpot stations serves as a natural extension of our existing suite of health and wellness services and offers people an alternative solution to accessing quality healthcare in a familiar, professional and convenient setting," said a statement from Robert Thompson, Rite Aid executive vice president of pharmacy.
User who utilize the Healthspot kiosk can:
– Schedule an appointment online or simply drop by your nearest HealthSpot Station for a visit any time you need care
– Track your medical history with secure electronic records through our website
– Get a prescription at any convenient HealthSpot Station location and review medication instructions online
– Sign up for online access to wellness information and follow-up care reminders
Rite Aid has over 4,600 pharmacies; however, does not have a nationwide model for in-store clinics but is exploring different options. The company had 2014 fiscal annual revenue of $25.5 billion in revenue.