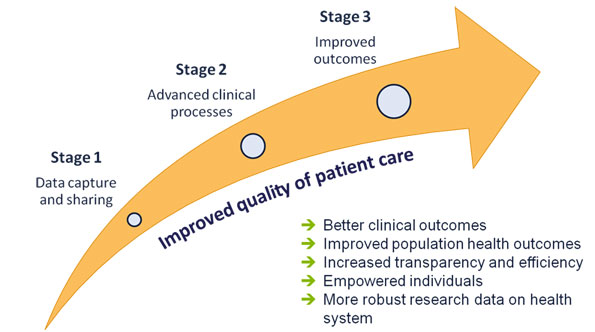 Less than 17 percent of hospitals have demonstrated Meaningful Use Stage 2 requirements, according to the latest CMS data. As of September 30, less than 38 percent of eligible hospitals (EHs) and critical access hospitals (CAHs) have met either Stage of Meaningful Use in 2014. CMS has paid out more than $25 billion incentive payments to eligible hospitals and professionals participating in the meaningful use program. 
The disappointing meaningful use data numbers reflects how hospitals are struggling to meet MU requirements. Eligible professionals (EPs) have until the end of February to report their progress; however, only 2 percent have demonstrated Stage 2 capabilities thus far.
Professional Organizations Reactions 
In a release, officials from the American Medical Association (AMA), College of Healthcare Information Management Executives (CHIME), Healthcare Information and Management Systems Society (HIMSS) and Medical Group Management Association (MGMA) called the results "disappointing, yet predictable."
"Meaningful Use participation data released today have validated the concerns of providers and IT leaders. These numbers continue to underscore the need for a sensible glide-path in 2015," said CHIME President and CEO Russell P. Branzell, FCHIME, CHCIO. "Providers have struggled mightily in 2014, in many instances for reasons beyond their control. If nothing is done to help them get back on track in 2015, we will continue to see growing dissatisfaction with EHRs and disenchantment with Meaningful Use."

"The low number of EP attestations to date is clear evidence that physician practices and their vendor partners have faced significant challenges in meeting the more onerous Stage 2 requirements of meaningful use," said Anders M. Gilberg, Senior Vice President, government affairs, MGMA. "Shortening the reporting period in 2015 is a much needed change if the program is to remain viable and is a critical step if the nation is to continue making progress toward the goal of interoperability."

"We're focused on transforming health and healthcare," said Carla Smith, MA, CNM, FHIMSS, Executive Vice President of HIMSS. "Meaningful Use Stage 2 and 2014 certified EHR technology are important drivers toward that outcome. If CMS continues to require a full-year of Meaningful Use reporting for 2015, we anticipate that large segments of providers will no longer be able to participate in the program—which hinders our nation's ability to improve the quality, safety, cost-effectiveness, and access to care."

"In addition to a shortened reporting period, CMS must end its one-size-fits all approach to achieve the goals of the Meaningful Use program, which are to create a secure and interoperable infrastructure," said AMA President Elect Steven J. Stack, MD. "The AMA recently released a blueprint to outline ways to improve the Meaningful Use program, as well as a framework outlining eight priorities for more usable EHRs. We believe the stringent pass fail requirements for meeting Meaningful Use, combined with a tsunami of other overlapping regulations, are keeping physicians from participating in the Meaningful Use program."
"The agency's decision to require a full-year of reporting using 2014 Edition certified EHR technology (CEHRT) in 2015 puts many eligible hospitals and physicians at risk of not meeting Meaningful Use next year and hinders the forward trajectory of the program," the letter states.