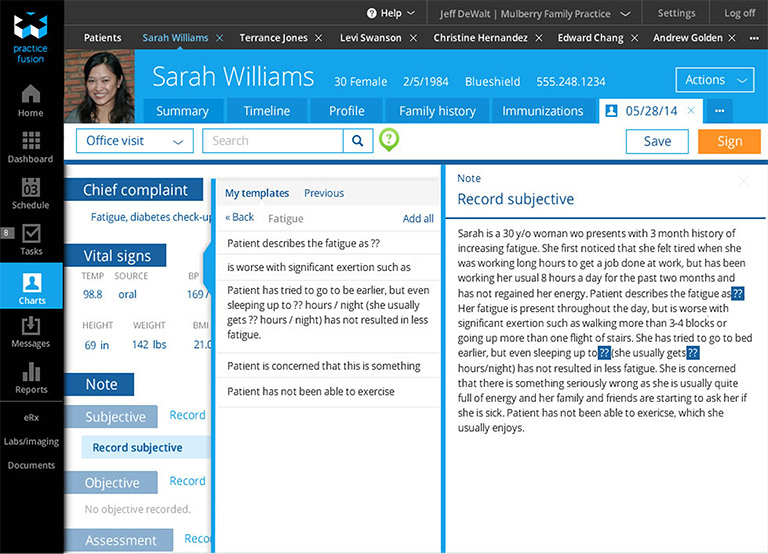 After receiving more than 20,000 requests for a mobile optimized EHR experience, today Pratice Fusion has announced the launch of their new mobile-optimized EHR platform for the Apple iPad, iPad Mini and Android tablets. The new EHR performs faster, is more responsive, has more intuitive workflows and is built on industry-leading technologies — all designed with the medical professional in mind.
Design Details
For the initial design, Practice Fusion started with a team at Cooper, a San Francisco-based design and strategy firm, and continued through to completion with a best-in-class group of in-house designers and developers at Practice Fusion. The EHR leverages technologies like Bootstrap, HTML5,jQuery, D3.js, Ember.js and is supported by back-end technologies like Microsoft .Net andAmazon S3.
The new EHR platform includes all the existing features already trusted by Practice Fusion users. Its new technologies also enable Practice Fusion to deliver features faster and perform better. With a tablet-optimized EHR, physicians are no longer bound to their desk in the exam room. They can move freely around the office, accessing patient records and logging patient visits on the go. It also integrates seamlessly with the consumer-facing portal Patient Fusion,where patients can access their own personal health records.  
"Unlike our competitors who struggle to make a dated, legacy product work on a mobile device, we decided to build our industry-leading EHR from the ground up to deliver the best experience for our users," said Ryan Howard, founder and CEO, Practice Fusion. "Beyond delivering the best looking and best responding cloud-based EHR on the market, with this new product we are now equipped to work even better with larger practices and enterprise partners."