Written by Ben Heubl, edited by Susan Williams
This year's TechCrunch Disrupt Europe Conference in London presented the audience with more digital health innovation than ever before. Mike Butcher, Editor At Large at TechCrunch Europe expressed excitement at the increased tech startups emerging from Europe. The conference had a massive health angle, and as always, TechCrunch hackathons stimulated fantastic creativity towards building digital health solutions. Without further ado, behold these great collaborations:
National Health Hack
Tim Kelsey, National Director for Patients and Information in the National Health Service together with Peter Hames from Big Health and Dr. Dominic King from the HELIX sat on a Q&A panel with TechCrunch editor Jon Shieber to discuss the potential of digital health innovation in the UK and within the NHS. Years ago such a scene would have been unthinkable. A senior NHS exec getting grilled on changing healthcare upon stage by a bunch of tech startup geeks, unthinkable. The audience was full of young techies ready to apply their skills, many of them to improve healthcare. Shieber openly discussed his doubts for Kelsey's plan using the tech community to solve the problems of the NHS. But Kelsey was consistent with his messaging, and ultimately seemed to have won over the naysayers.  According to Kelsey, now is the time for the NHS to partner with tech startups. The partnerships are critical to solving NHS's challenges in providing better, cheaper, preventative, and urgent care. In a fireside chat with Neelie Kroes, from the European Commission, she mentioned the aging population and the potential the tech startup community can might bring in terms of solutions.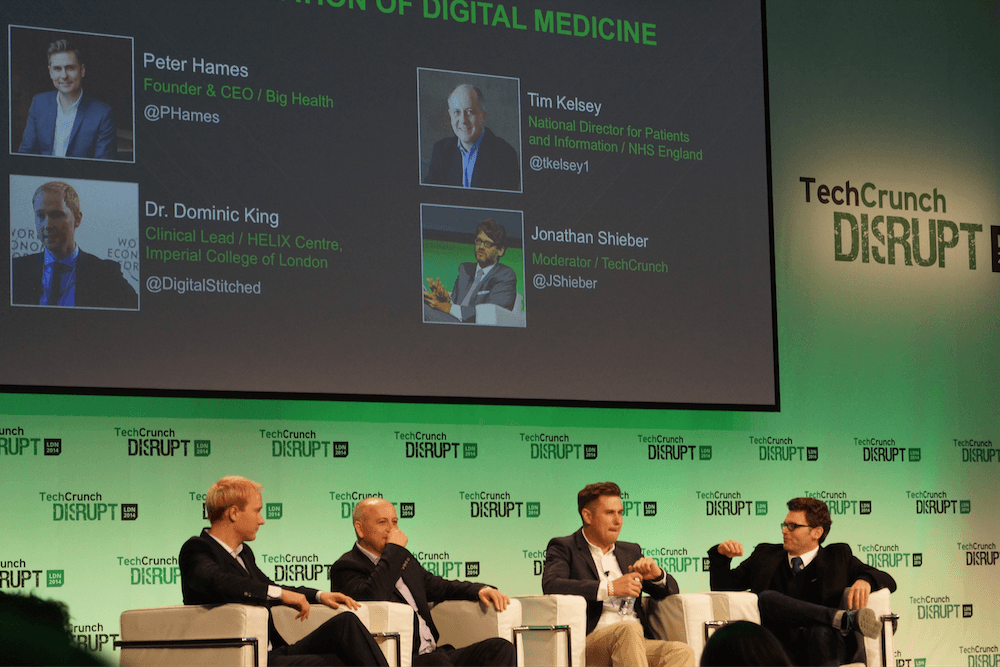 Infectious Disease Map Hack
The winner of the TechCrunch Disrupt Europe Hackathon 2014 (review by Romain Dillet here) was a concept called "Infected Flight". The recent Ebola outbreak certainly spilled into the consciousness, especially for air travel, of all who know the importance of correct predictions for international speed of infectious disease.  In less than 24 hours the team from Infected Flight came up with a winning solution. The team recognized a  lack of accessible predictive simulation tools for non-academics around infectious disease. They developed a cross-platform web app for modeling the journey of a disease spreading with 65.000 flight records at hand. Ebola took the first cake, since it's on everyone's mind. Yet, the product can be applied to any disease and the team plans to partner with international organizations like the WHO to make it available to as many people as they can.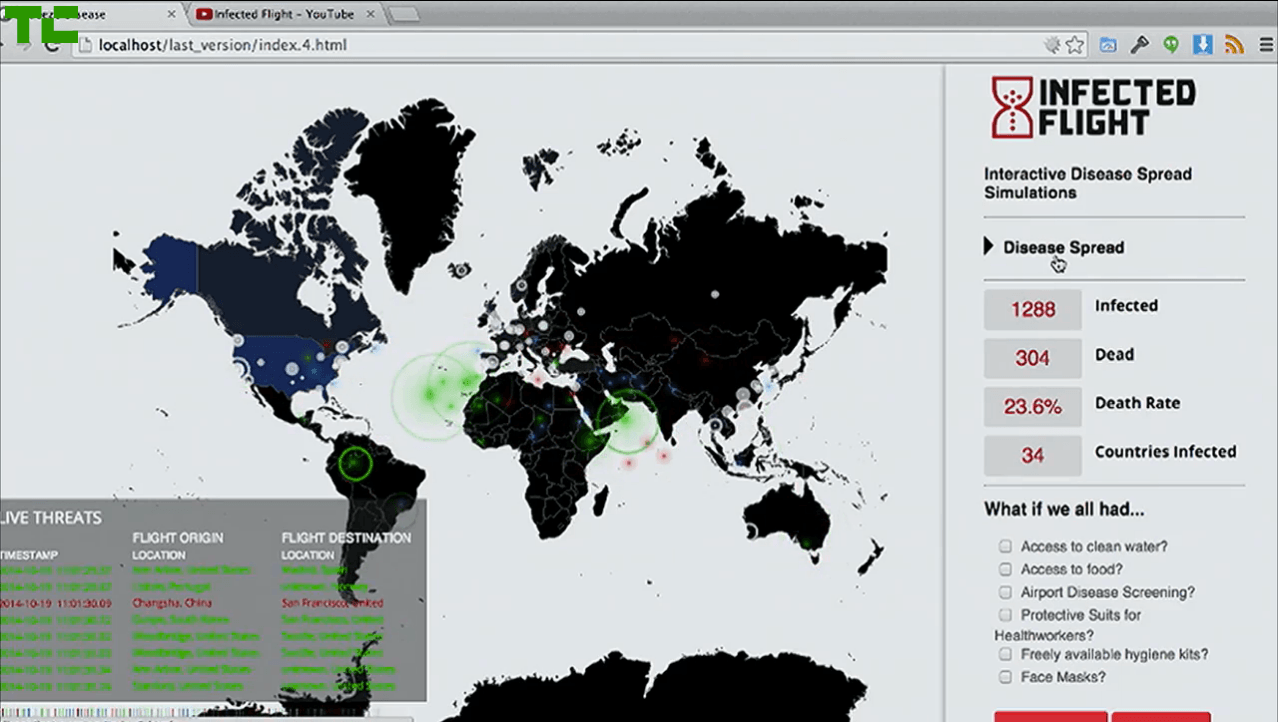 On stage, the result of the hack presented was a predictive platform that categorizes citizens into different groups. The algorithm then takes information such as the infectivity coefficient and incubation time and matches it with air travel information like flight time, inbound and outbound airport data and city data. The result is impressive (watch the full pitch here). "Sometimes we still had to guess some of the input. None of us have medical backgrounds," said one of the team members. The Infected Flight team brings value by simplifying complex predictions for health professionals, media, or other organizations.
Homecare & Cosmetics Hack
Health innovation was part of the TechCrunch Disrupt Battlefield. Of the 14 companies selected out of nearly 700 global applicants, three (CareZapp, CosmEthics, Disease Diagnostic Group) had a health focused mission.
CareZapp went on stage to talk about their system for affecting the "silver tsunami," or the inevitable wave of elder people. Though this is a global phenomenon, in the UK, the Parliament recognizes 10 million people currently over 65 years old. The latest projections state that there will be more than 5 million more elderly people in 20 years, and 19 million more by 2050. With this and the added social, economic and political pressures this shift entails, home care will be a hot commodity. CareZapp's solutions are to help caregivers, doctors and patients better communicate to enable better care for people at home. Launching their system in beta at the Conference, founder Andrew Macfarlane said in an interview that they launch with an astonishing 10.000 home care facilities, which comes from a partnership with the Irish home care company myhomecare.ie, the biggest of its kind in Ireland. In addition to the communication platform, the company will integrate other sensor objects for external tracking, communication and monitoring. Using the platform without the Internet of Things integration is free; once external devices are used, CareZapp will charge the user. 13.1million Britons are already expected to wear some sort of health and fitness tracking device, according to market research firm Kantar.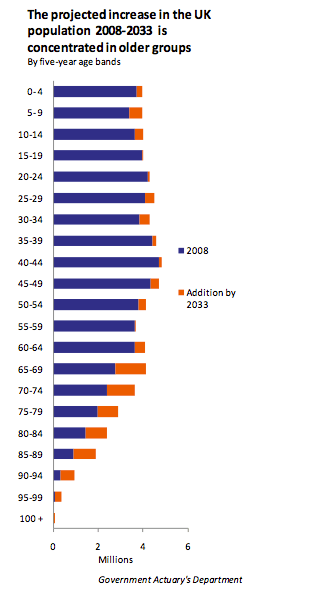 CosmEthics, another company on stage for the TechCrunch Disrupt Battlefield, is out to educate people about the ingredients of in their cosmetics. It recommends healthier alternatives to more toxic brands based on medical research.
Malaria Hack
Disease Diagnostic Group represented another great tech startup that took on a nagging world problem: Malaria. They created an early detection solution that is easy, convenient, fast and cheap. Founder John Lewandowski came on stage last Monday and challenged the TechCrunch Disrupt Battlefield to answer whether it would be possible to change the world with a laser pointer and a magnet. He proved a lot of disbelievers wrong.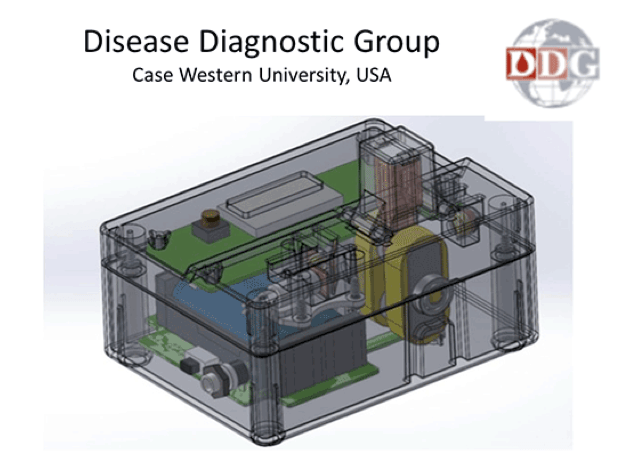 According to Unisef.org, Malaria kills one child every 30 seconds, about 3000 children per day. Disease Diagnostic Group's Rapid Assessment of Malaria device (RAM), developed at Case Western Reserve University has features that situates it as a game changer for the high-risk Malaria environments, which includes 40% of the world's population.  source: http://nciia.org/open/open-minds-teams-diseasediagnosticgrp/
Early detection in Malaria is key for treatment. The RAM device takes only a few seconds, and can be done for currently 100,000 field tests, and costs only $0.25 per test.
Just as important, the testing can be done by anybody, not only doctors, which can be costly both in terms of money and time. Also, the test is 3 – 4% more accurate than the current industry standard for Malaria testing. The startup is setting up a distribution network, its first partner, Bosch Healthcare, is in India.
DNA Hack
Another tech startup called LiveSmart, from the exhibition space at TechCrunch Disrupt impressed, too. LiveSmart is what many consider the European 23andMe. Launching soon, founders on the exhibition floor explained that the company works with a DNA sequencing facility in eastern Europe, and built up a platform which allows users to send their saliva sample and receive actionable, accurate and affordable feedback in less than 30 days. Key is that the output from the testing is leaving the user not without actionable advice, something many feel 23andMe didn't succeed at getting right.  The user experience is still being developed, but it will be able to guide users towards the best actions based on the information they receive.  More details will be released once the company launches.

Hearing Problems Hack
For anyone aware of the problem especially in early the education of children, hearing problems cause massive trouble for kids. For this reason, teachers and parents should be excited about the company, HearToday. The company has found an affordable solution to deciphering whether a child's delayed learning is due to hearing problems. Founder Mehdi Siami explains that there are two different solutions needed to crack the problem of delayed learning and negligence of children's learning potential due to hearing problems. "We developed a device that is much cheaper than any other current device on the market, which helps school systems to quickly and conveniently diagnose kids with hearing problems. The cost is far below the four digit price tag for current devices. Then we needed something to help the kids that struggle to hear better, and to immediately partake in class with the same educational chances other children have", says Siami. The challenge was to make the hardware small, effective and cheap. To do this they used Raspberrypi technology.
Whether Raspberrypi, laser pointer, magnets, DNA sequencing, flight data or cosmetic product labels, TechCrunch Disrupt London left us with the impression that clever entrepreneurs, can even solve significant healthcare problems, without completely reinventing the wheel, and by making use of tech that is already there. 
Ben Heubl is a digital health advocate, activist and journalist for health 2.0 innovation.Ben Heubl is speaker at various healthcare innovation conferences and events, a TEDMED delegate, founded the non-for-profit organization Health 2.0 Copenhagen, Mentor at the HealthXL accelerator, and currently passionately writes for various online magazines in the context of digital health innovation and technology. Ben also currently supports a UK health innovation SME to change how citizens access healthcare. You can follow him on Twitter at @benheub