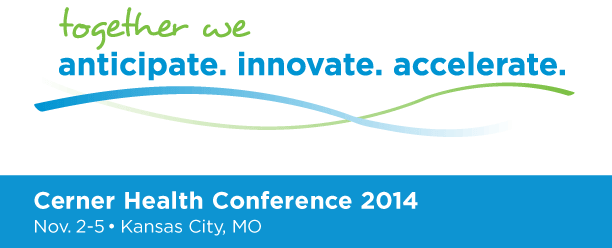 More than 11,000 health care industry leaders, practitioners and Cerner associates are planning to attend the 29th annual Cerner Health Conference (CHC) in Kansas City, MO. Clients, partners and associates from more than 25 countries are expected to collaborate with peers, share best practices and gain hands-on experience with innovative health care solutions and services. The conference begins on Sunday, Nov. 2 and runs through Wednesday, Nov. 5 at the Kansas City Convention Center.
This year's 2014 theme, "Together we anticipate, innovate, accelerate," describes anticipating the needs of the local community, innovating creative solutions to complex issues and accelerating toward a healthier tomorrow.
Cerner clients will lead the majority of the more than 240 diverse education sessions featuring more than 400 speakers highlighting key healthcare issues including:
– Clinical Mobility
– Population Health Management
– Interoperability
– Clinical & Financial Integration
– Quality Outcomes
Attendees will also have the opportunity to learn about best practices from their peers and Cerner experts through demonstrations, interactive exhibits and networking opportunities.
A preview of speakers who will provide keynote addresses during the conference include (subject to change):
Sunday, Nov. 2 at 5 p.m. CT: Mitch Wasden of University of Missouri Health Care, Dr. Ronald Paulus of Mission Health System and Dr. Wendy Sue Swanson from Seattle Children's Hospital will speak on consumerism in health care.

Mitch Wasden is Chief Executive Officer and Chief Operating Officer of University of Missouri Health Care. Wasden will share the importance of patient engagement and leveraging technology to improve the patient experience.

Dr. Ronald Paulus is President and CEO of Mission Health System. Paulus will discuss the medical link between employee engagement and community health.

Dr. Wendy Sue Swanson is Executive Director of Digital Health at Seattle Children's Hospital. She is also a pediatrician and successful author of Mama Doc Medicine. Swanson will explain the opportunity for new tools and technology to create better partnerships with patients and families.


 

Monday, Nov. 3 at 8 a.m. CT: Karen DeSalvo of the Office of the National Coordinator for the U.S. Department of Health and Human Services will discuss the vision for an interoperable infrastructure.

DeSalvo, the National Coordinator for Health Information Technology, will describe the journey to digitize information and discuss new models of care.




 

Tuesday, Nov. 4 at 8 a.m. CT: Neal Patterson, Cerner chairman, CEO and co-founder, will provide an update on Cerner's vision for health systems, providers, and communities.


 

Wednesday, Nov. 5 at 9 a.m. CT: Dr. William 'Tripp' Jennings from Palmetto Health and Dr. Charles Gutteridge from Barts Health NHS Trust will discuss interoperability and connecting across patients, communities, and nations.

Dr. William 'Tripp' Jennings is System Vice President and Medical Informatics Officer at Palmetto Health. Jennings will share his experience of seamless information flowing across disparate systems for the care of patients, enabled by the CommonWell Health Alliance.

Dr. Charles Gutteridge is Chief Clinical Information Officer and Consultant Hematologist at Barts Health NHS Trust in east London. He will explain his achievements improving the health of the population of east London by consolidating to one single electronic patient record system.