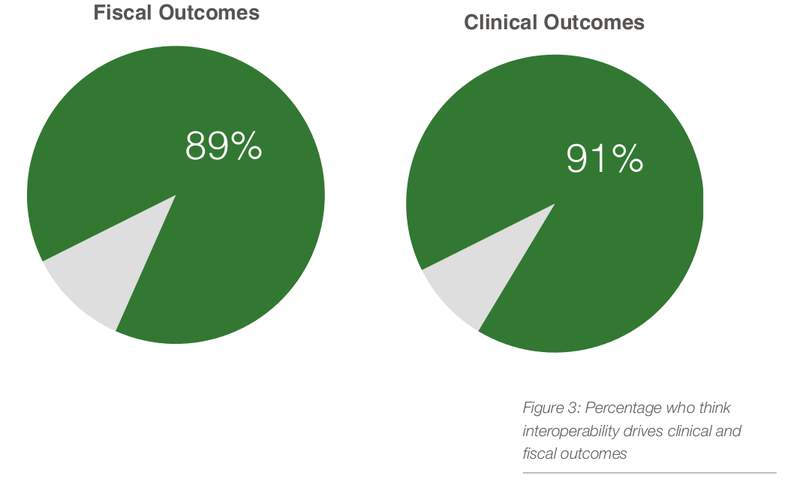 91% of providers said that interoperability was a primary driver for clinical outcomes, while 89% said the same about fiscal outcomes, according to a recent study by Smart Data pioneer peer60. The data gathered from VP's of Quality, CNOs, CIO, and other key hospital leaders revealed more than 90 percent  of healthcare leaders felt that interoperability will improve the overall experience of patients and clinicians. Leaders who worked closest to fiscal and clinical outcomes proved to be most skeptical than the rest of the community surveyed. Nurses were more skeptical about improved clinical outcomes while COOs and IT Directors were more skeptical about improved fiscal outcomes. These insights could taken as overly pessimistic or as the real sources of truth regarding the impact of interoperablity on fiscal and clinical outcomes. 
"It will [improve fiscal and clinical outcomes] but it isn't the primary driver," one medical director said. Provider decision making is the primary driver [aided] by improved interoperability."
EHR: Primary Driver of Interoperability? 
When healthcare leaders suggested that improved interoperability is not a primary driver of clinical and fiscal outcomes, the answers varied based on the EHR vendors of their organizations. Key quotes from leaders by major EHR vendors include: 
Allscripts
"It will help, but isn't necessarily a primary driver," one CMIO wrote. "Operational issues trump technology, which is just a tool to help achieve desired outcomes."
Cerner
"Most interoperability projects require additional costs, resources, etc," one IT director wrote. "Thus, the increased costs associated will not necessarily drive DOWN expenses short term. Long term it is still unknown."
CPSI
"The primary processes have too many issues," one CMO said. "It will be 'garbage in, garbage out.'"
Epic
Epic clients stated that the EHR would help, but would not be a "primary driver"
Healthland
"'Improved' interoperability would help," this individual wrote. "However, the current systems offered are just making healthcare more difficult and increasing the opportunity for errors."
McKesson
"Doctors will not always want to rely on another docs opinion or results, sometimes for liability reasons,"one CIO said. "They will still perform their own tests and use their own opinion and results."
Meditech
"[Technology] is just a tool or instrument, not the primary driver," one CIO said.
Siemens
"[Interoperability] will help improve outcomes, but it's not the 'primary' driver," a COO wrote. The primary driver is really the physician relationships and cooperation of the care team."
Best Venue for Reaching Interoperability?
Currently there are three sources people look to in hopes these can make interoperability a reality: government, vendors and private entities. 
1. Vendors can work together to make their individual systems interoperable, allowing every facility, no matter their vendor, to share critical information.
2. Private initiatives work to make systems interoperable by developing standards and tools that ideally will work for across all healthcare vendors and providers.
3. The Federal Government has the ability (and the teeth) to demand certain standards or create a task force to come up with a solution.
51 percent of the healthcare professional surveyed said believe government-led initiative would be most effective. Many of the respondents who preferred a government-led initiative believe the government had the most post to enforce everyone to work together on interoperability standards and guidelines. One facility's CIO explained his reasoning why government is his preferred option.
"We need to ensure standards are defined and all vendors that choose to participate are implementing consistent solutions across the healthcare system regardless of which EMR that is used," he said. "A government sponsored initiative gets everyone engaged and focused on the same goals at the same time allowing for significant progress in as short a time possible."
On the opposite end, critics of the government led approach felt that government does not understand the daily needs of facilities well enough to lead the initiative and that vendors are simply too competitive to work towards the greater good. In short, they feel that a privately-led initiative will have the purest and most informed motives.
"Government policies mean well but are rarely well executed in quality space and vendors are for profit and generally not incentivized to invest in such an initiative that will perhaps require significant changes to their most profitable products," said one director of performance improvement. "A private-government partnership might work but it has to start as a private, provider and consumer driven effort."
Survey Background/Methodology
Smart Data pioneer peer60 used its Reaction platform to collect 350 responses in mid-September from healthcare executives, directors of quality, nurse leadership, and from IT leaders. This data is remarkably current (just two weeks old) and available at no cost to the public.
The report is available for complimentary download at research.peer60.com/interoperability/.