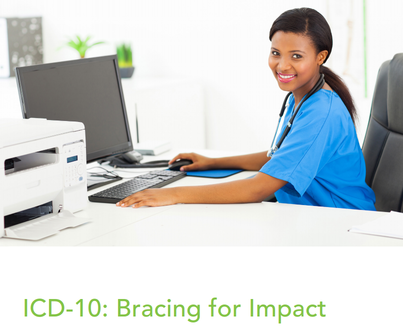 ICD-10 is the largest healthcare mandate in history: Are You Ready? Many in healthcare are focused on meeting the requirements of the Affordable Care Act, but ask clinicians and they will tell you it is the upcoming conversion to ICD-10 that has their undivided attention. Why?
– The precision documentation requirements are exponentially higher than what was required by ICD-9
– For the first time, ICD-10 puts the responsibility for accurate coding solely in the hands of the physician.
– Without the right technology in place, a physician will not be able to create something as simple as an ICD-10 compliant encounter sheet.
– The potential for lost revenue is significant—some organizations have opted to focus solely on ICD-10 compliance and forgo Meaningful Use attestation, as they fear the disruption to their revenue stream caused by ICD-10.
The good news is that with proper planning, and the right partner, a transition from ICD-9 to ICD-10 isn't just possible—it can be seamless.
Be prepared for ICD-10 with minimal disruption to your organization, and learn to succeed in a brave new world.  Allscripts Revenue Cycle Solutions provide you peace of mind with the Breadth, Depth, and Quality of our products, ensuring you are ready for whatever comes your way.
In this paper, you will learn how to adapt and thrive in the new environment of ICD-10.  While many healthcare organizations are bracing for the worst, the report shows how to transform the threat of ICD-10 into a new, positive revenue model to ensure your future financial growth.