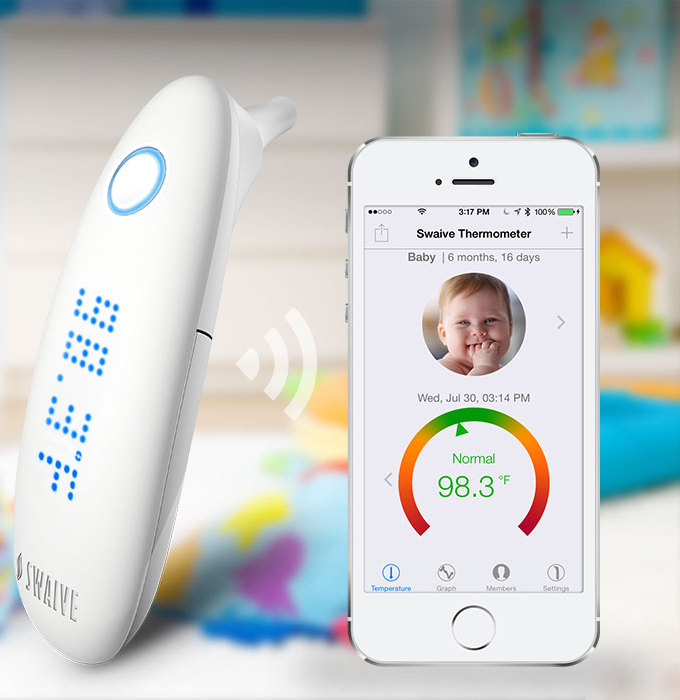 Swaive has developed a digital health smart thermometer that integrates with Apple HealthKit on the iPhone or iPad. The bluetooth Swaive smart thermometer analyzes temperature and provides critical information to help monitor the health of the whole family.  
How It Works 
The smart thermometer is designed to be the easiest for anyone to use and obtain accurate results with a 0.01 degree professional grade accuracy to meet FDA requirements. Users simply put the device in the ear, press the button, and temperature is instantly displayed on the thermometer and the app. The device also includes advanced variable LED technology to quickly and quietly take temperatures at night.
Utilizing the dashboard app, users can track temperature trends hourly, daily, or weekly and share these results with their primary care physician, nurse, or spouse via a sharing list.  Since normal body temperature varies by age, the Swaive Thermometer adapts to each family member's age. Users can add as many family members as needed.
The Silicon Valley based company designs and develops products that combine elegant stylish hardware with simple to use apps that connect today's smartphones and tablets to the real world. The product is now available for pre-order for $79.99 and will ship at the end of November 2014.