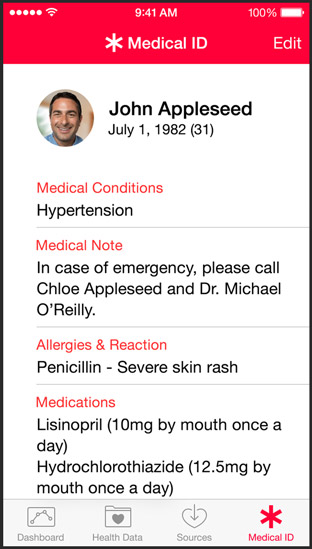 Last week, a software bug delayed the launch of Apple HealthKit on iOS8 preventing developers from making HealthKit apps. On Wednesday of this week, Apple provided the first update to the new iOS 8 software that fixes a bug so HealthKit Apps can be made available on the App Store. 
Other list of changes in the iOS 8.0.1 release include:
Addresses an issue where third-party keyboards could become deselected when a user enters their passcode.

Fixes an issue that prevented some apps from accessing photos from the Photo Library.

Improves the reliability of the Reachability feature on iPhone 6 and iPhone 6 Plus.

Fixes an issue that could cause unexpected cellular data usage when receiving SMS/MMS messages.

Better support of Ask to buy for Family Sharing for In-App Purchases.

Fixes an issue where ringtones were sometimes not restored from iCloud backups.

Fixes a bug that prevented uploading photos and videos from Safari.
Quickly following the release of iOS 8.0.1 on Wednesday, Apple was forced to pulled the update from its servers due to widespread connectivity issues. Users also found that the Touch ID fingerprint unlock for their handset no longer works. 
The HealthKit platform will serve as an integrative hub for third-party health and wellness-related apps. Users can decide what information is placed in HealthKit and which apps can access their data through the Health app. Apps that access HealthKit are also required to have a privacy policy, which is a key risk that Apple has yet to fully address. 
Related: Will Apple's HealthKit Turn the Grays of HIPAA Compliance into Black and White?
Take your digital health knowledge to the next level by enrolling in a unique and free 5-part email course.  You'll receive little-known, but vital insights, original research and analysis that's critical to your success. Click here to learn more and enroll.