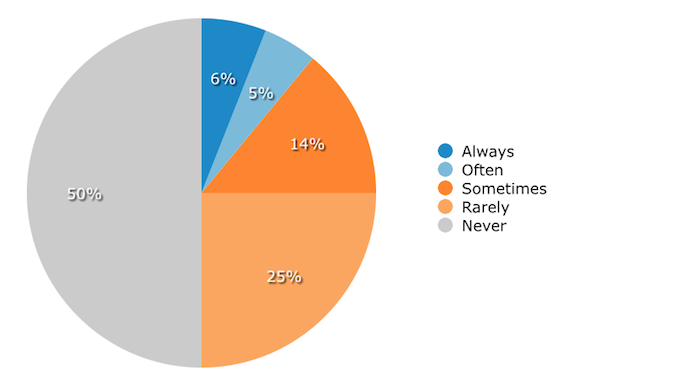 The reality of patient deception in the doctor-patient relationship is real. In fact,  half of patients admit to deceiving a doctor or other healthcare professional, according to an online survey of 3,075 American patients conducted by EHR selection group Software Advice. One-quarter of patients admitted to giving incorrect information or omitting information about their health at least "sometimes." Another one-quarter of patients "rarely" withhold information, and half say they have "never" been deliberately misleading during a medical office visit. The scary part is the real number of patients who deceive doctors may be higher than 50 percent.
According to Dr. Leana Wen, emergency physician at George Washington University and author of "When Doctors Don't Listen," most patients don't intend to give doctors inaccurate information. Instead, patients often leave out previously diagnosed conditions or symptoms they don't think are related to the reason for their visit. 
Other key findings include:
Most Patients Don't Reveal Drug, Alcohol or Tobacco Use
Patients who admitted to withholding information, drug, alcohol and tobacco use was the most common area in which patients were dishonest. 
Patients Often Deceive by Minimizing Health Information
Out of the patients who admitted that they had deceived a doctor, almost 40 percent did so by minimizing. Twenty-six percent deceived via exaggeration, and slightly fewer—23 percent—refused to disclose information at all.
Avoiding Embarrassment and Lectures Top Reason for Deceit
Among patients who responded that they had withheld information, 14 percent did so in order to avoid feeling embarrassed or being lectured by their doctor. Eleven percent of patients were seeking to protect their privacy—a worry that may be alleviated by mentioning privacy laws such as HIPAA. And 5 percent of patients were concerned with avoiding the cost or inconvenience of treatment.
Patients Most Reassured by Confidentiality, Lack of Judgment
Forty-three percent of patients said there was nothing a doctor could do to get them to open up. But among those who could be persuaded, 35 percent of patients would be less likely to withhold information from a doctor if they were assured of confidentiality. Twenty-three percent expressed a preference for an assurance that the doctor wouldn't judge them.
The report warned although there is not anything a doctor can do to encourage more truth from their patients, it is recommended that doctors ask informed follow-up questions, maintaining eye contact, avoiding lecturing and clearly explaining confidentiality laws to improve communication and trust with patients.
For more information about this report, visit http://www.softwareadvice.com/medical/industryview/patient-deception-report-2014/