Changing patient behavior and expectations is the primary factor driving the healthcare market, according to a new report from Verizon and Harvard Business Review. "The Digital Dividend: First Mover Advantage" report sponsored by Verizon surveyed 672 professionals about their views on technology. Out of the 672 professionals, 74 respondents from the healthcare sector detailed how technology adoption is changing the healthcare landscape.
Key Factors Driving the Healthcare Market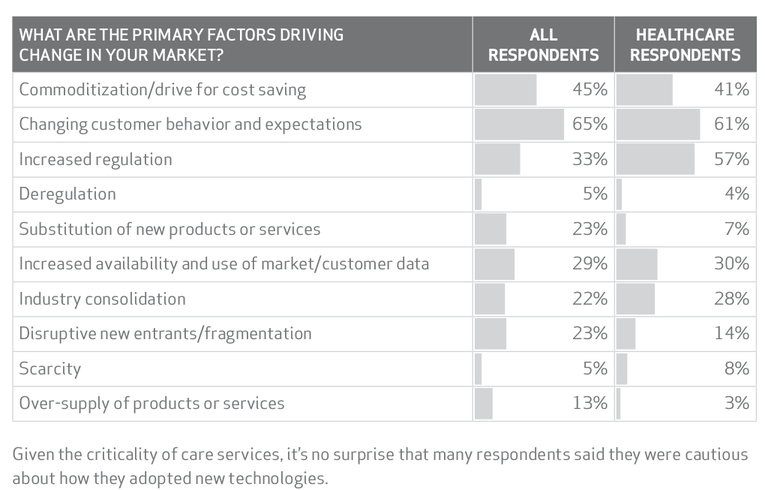 61 percent of healthcare sector respondents said that changing patient behavior and expectations is the primary factor driving their market. However, factors constraining the speed of change, including regulation and cost pressures. Healthcare providers are also less likely to be concerned with disruptive new entrants/fragmentation, scarcity and over-supply of products/services.
First Mover Advantage vs. Playing It Safe

Naturally, the majority of healthcare providers are less likely to adopt new technologies until they are proven. However, 27 percent of the said they core strategy has "significantly" changed  due to new technologies.  Other key findings include: 
– 36 percent respondents said that their company's aversion to risk is the biggest barrier to increasing technology adoption 
– 90 percent of respondents said that technology has changed their products and services to some extent
— although only 25 percent said that change was "significant" or "complete", compared to 33 percent in other
sectors.
– 64 percent of healthcare respondents said they'd "extensively" adopted mobility solutions. Despite its caution, the healthcare sector is on par with other sectors in adoption of all five technologies, and in some cases ahead. 
– Security is a natural concern for such a regulated and privacy-conscious sector. Respondents were more positive about the security implications of using cloud than some other sectors, but concerns still remained. 55 percent said that cloud weakens data security; 25 percent said it strengthened data security. Of those that are not using cloud, 38 percent said it's because cloud is "too risky" (average 28%).  
– Although more than three quarters of healthcare respondents have tried social and collaboration technologies, less than a quarter are using it extensively, compared to more than a third of all organizations we surveyed. When asked why they're not using social; 33 percent cited cultural resistance to change, and 47 percent that it's not appropriate for their market.
– Healthcare actually scored low on using analytics in product and services (22% vs 31% average) and R&D (20% vs 26% average). Instead, 37 percent of respondents said the biggest impact has been on their finance function, ahead of the average of 29 percent. 
-Of those not using analytics, 25 percent said it was because the ROI hasn't been proven.