Written by Dr. Donald Voltz
There has been much discussion focusing on the need for EMR interoperability. The current state of EMR remedies for medical professionals is still frustratingly difficult. We are still being held back with the same old issues of lack of interoperability, leaving doctors to go on a scavenger hunt for often timely patient data. The worst part is there are 2.0 EMR innovators like Zoeticx and others out there who can break the data logjam and let the data flow.
Currently, EMRs are at the center of healthcare reform. Numerous issues including value, access, cost, and quality of care have taken center stage with respect to healthcare reform. All aspects of healthcare depend on data and the transmission of this information between epochs of care and providers.
The Health Information Technology for Economic and Clinical Health (HITECH) Act (ref), signed into law in 2009, provided funding for the implementation of EHR's into physician offices and hospitals. The goal was to establish a standardized and accessible repository of information against which quality, cost and value metrics can be assessed and reimbursed based on value provided, not amount of care delivered.
EHR's are also being taxed with addressing the increasing costs of healthcare by addressing duplication and redundancy in patient care. In order for EMR's to address all of these issues, interoperability is a requirement.
According to data published on HealthIT.Gov, in March 2014, 741 EMR vendors were supplying certified EHR products and services to 445,416 healthcare providers participating in CMS and/or ONC EMR incentive programs. Of these vendors, the top five controlled more than 50% of the market share (ref).
Despite a limited number of vendors offering EMR products to more than half of providers surveyed, emphasis was, and still is, being placed on the ability to share health data between providers, clinics, hospitals and health systems. Interoperability, the umbrella term being used for the sharing of information between electronic data repositories, has been the focus of many in this field, and was recently highlighted in the ONC's ten year vision statement for a national health IT infrastructure (ref).
According to HIMMS, interoperability is the ability of different information technology systems and various software applications to communicate, exchange data, and allow for the use of patient data that has been exchanged between these systems. Although there are many requirements to ensure interoperable systems appropriately address issues of security, confidentiality, and data provenance, of clinical importance is the access to, and more importantly, the use of patient information in the care process.
More Doctors or Better Technology?
The Association of American Medical Colleges (AAMC) estimates a shortage of more than 90,000 physicians by the end of the decade and 60,000 as soon as next year. The distribution of physicians and other healthcare providers adds to the issue with rural and urban areas being under-served. The evolving VA scandal made public the need for more physicians claiming the delays in care and negative outcomes stems from the disparity between patient volumes and current staff able to take care of them.
Although technology is not ready to replace physicians and other healthcare providers, but if it is designed well, can overcome the limitations of humans and make the delivery of care more efficient, effective and impact the quality and cost issues present in our current, disconnected and often redundant care delivery system. More physicians is as important as ensuring the health data systems deliver accurate, timely and well formatted information to providers at the required time, and in a format that allows for decision making along with documentation of the care provided.
Patients' medical information should not be a mystery where each healthcare provider enters into a quest to uncover secrets during each encounter. Instead, the more vivid a picture that is accessible by providers, the more efficient and less error prone the information becomes in the care of patients. It is both a great waste of time and an error prone process when physicians are presented with incomplete medical information, requiring multiple queries into disparate systems in order to create a complete picture of a given patient and their presenting needs.
$2.05 Trillion Spent on EMRs, But Still Wanting a Solution to Physician Needs
The Healthcare Information and Management Systems Society (HIMSS) estimate $2.05 trillion is spent annually on EMR systems. Couple this statistic with a study by the MPI Group where more than 70% of physicians stated the current state of EMR systems are not worth this expense.
One of the limitations of current EMR systems is in the perceived lack of design for current physician work flows resulting in more time to both enter information into the system and to obtain information the systems contain. The current back-end architecture of these systems allows for the storage of relevant patient information in various locations making it challenging to location critical information resulting in duplication of tests and documentation.
Adding to this issue, different EMR vendors, and even the same vendor, running different versions of their software which adds to the cognitive load required by providers working within, or between health systems with various EMR systems. This comes not from the complexity of a patients' presenting medical issue, but instead from the interaction with the EMR that has not been designed to support the workflow.
Related: EMRs: Past, Present, and Future
The Rise of EMR Explorers and Innovators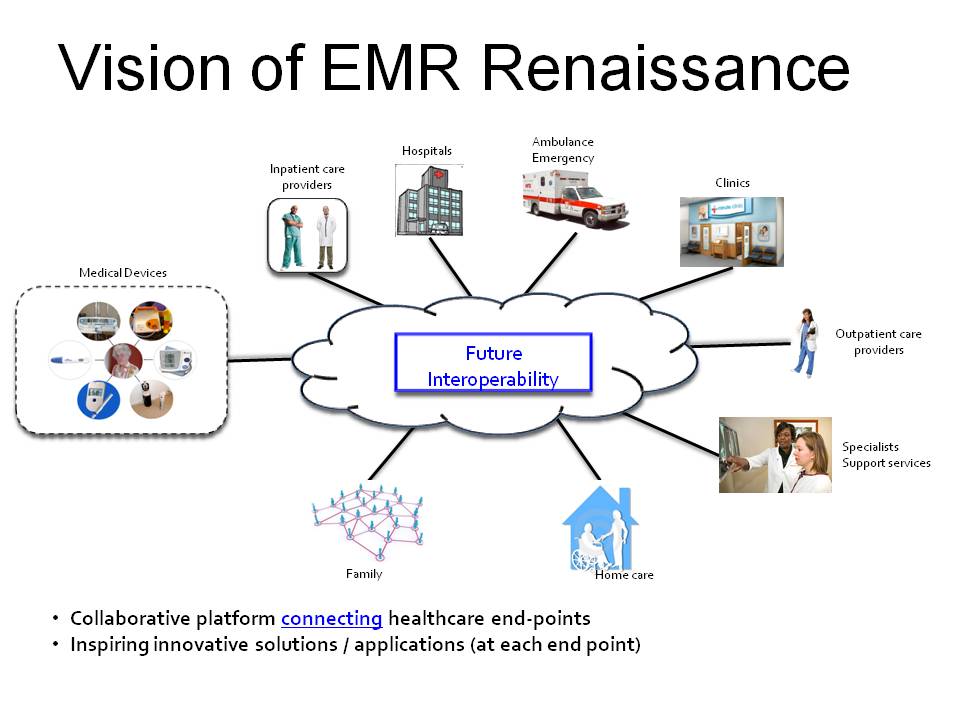 There is another path where EMRs will progress. Out of the deficiencies in design, development and implementation, many have watched and complied with the requirements to incorporated EMRs into the healthcare system. These frustrations caused some to create complex workarounds so they can complete their work taking care of patients' medical needs. Others look at these problems as great opportunities to impact healthcare for the better, to re-imagine what EMRs can bring to physicians and the healthcare system.
These explores are diverse, coming from all areas both within and outside of healthcare. They are physicians, nurses, pharmacists, entrepreneurs, and domain experts in sectors outside of healthcare, but with a perspective to address the problems of healthcare. These explores are determined to expand the art and science of medicine and to take EMRs to the next level. They refuse to wait for the vendors to change the systems and are working to do it themselves. We are ready to turn in a lab coat for a digital "smart" smock.
There's no question that the area of electronic health information holds great opportunity to solve complex, interrelated, system-wide problems to meet current and future healthcare needs of our society. Electronic medical records are at the center of our healthcare system and are intimately involved in meeting the quality, value, and efficiency expectations of patients, providers, and regulators.
Expecting to solve all of the issues with a single software platform is unreasonable and unattainable, but impacts issues that are present with current EMR systems that is not only possible, but available today from EMR interoperability solution providers like Zoeticx.
Numerous reports have been generated and predict health information technology (HIT) spending will reach $26.1 billion per year by 2017 encompassing up to 35 percent of a hospital's capital budget. The EMR market in the US alone is also projected to grow and will be the central hub to the HIT wheel transforming the way healthcare is delivered and measured. All of this growth requires the interconnection and interoperability of technology.
A Future of Interconnected Interoperability
What will all of this really buy? An unparalleled universe of interoperability is on the way. The long awaited bridge between EMRs and better patient outcomes will be achieved with superior inpatient quality, greater efficiency, reduced hospital time and lower costs while outpatient goals will focus on prevention, monitoring and reduced re-admission. 
The medical patient community will see an unprecedented data revolution with a convergence of connectivity between communication and device equipment. Interoperability between medical devices like blood pressure machines and gym equipment, ambulances and ERs, and nurse call centers and EMRs. This will be driven by multiple communications channels for voice, text and images interconnected by interoperable workstations, pagers and mobile phones. Physical therapy centers, acupuncturists, dentists, senior living facilities, home care professionals, clinics and family members will finally all be on the same page.
Dr. Donald Voltz is a board-certified anesthesiologist, researcher, medical educator, and entrepreneur. With more than 15 years of experience in healthcare, Dr. Voltz has been involved with many facets of medicine. He has performed basic science and clinical research and has experience in the translation of ideas into viable medical systems and devices.
Thanh Tran, CEO of Zoeticx, Inc. also contributed.