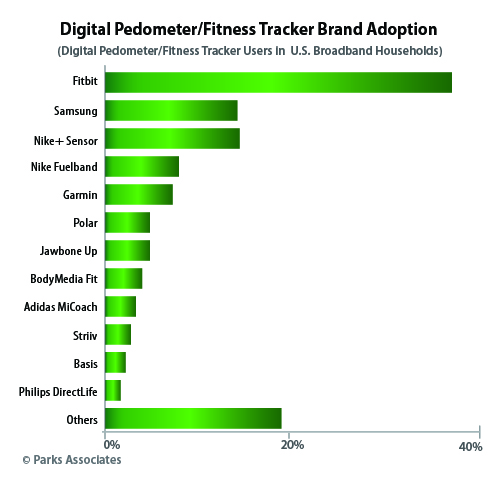 Fitbit is the early dominant leader in the market for digital fitness trackers with nearly 40% of the market, according to new research Parks Associates announced today in advance of the firm's Connected Health Summit: Engaging Consumers, September 4-5 in San Diego, California. The 2Q 2014 survey of more than 5,000 U.S. broadband households found that Fitbit is far ahead of its closest competitors Samsung (14%), Nike+ Sensor (14%), and Nike Fuelband (8%).
"Slightly more than 6% of U.S. broadband households have a digital pedometer or fitness tracker, so this market is still in the early stages of adoption," said Harry Wang, Director, Health & Mobile Product Research, Parks Associates. "Fitbit's early success highlights several key factors for success in this market, including fashionable design, integration with mobile devices, and a variety of model options. At Connected Health Summit, executives from top companies in the wearables space will discuss leading techniques both to drive adoption and keep consumers engaged."
Parks Associates analysts recommend companies can achieve long-term success in the digital fitness tracker industry with the following strategies:
Standardize measurements of fitness progress and simplify the fitness management process

Enrich the user experience by tracking other elements of healthy living

Introduce fitness management and coaching services to deepen user engagement and demonstrate value
Parks Associates digital health research shows:
2% of U.S. broadband households purchased a smart watch in 2013, with another 4% very likely to purchase a smart watch in the next 12 months.

Connected trackers will account for 52% of all digital fitness tracker unit sales in 2014 and reach 81% by 2018 (66 million units).
Connected Health Summit features the following sessions highlighting the wearables and fitness trackers market:
"Healthy Living, Connected Devices, and Wearables" – AARP, American Heart Association, Lowe's Companies, Inc., Masimo, Playtabase

"The Role of Connected Devices in Digital Health" – Ayla Networks, Covidien/Zephyr Technology, iHealth Lab, Qualcomm Life/Continua Health Alliance, Z-Wave Alliance

"Moving the Digital Health Market Forward: Consumers Take Charge" – Conversa Health, Doctor on Demand, Healthgrades, iTriage, Jawbone

"Incentivizing Behavioral Changes: The Impact of Apps and Big Data" – dacadoo, Consumer Electronics Association, Humetrix, RunKeeper, Verizon Enterprise Solutions
Connected Health Summit keynotes include executives from Optum, Qualcomm Life, Humana Wellness, Walgreens, and Ascension Health. Follow the event on Twitter at @CONN_Health_Smt and #ConnectedHealth2014.
Media are invited to attend. Press passes are available athttp://www.parksassociates.com/events/connected-health/media and include online access to event materials. To schedule an interview with a speaker or analyst, contact Holly Sprague at hsprague@gmail.com.