Parks Associates responds to criticism with more context on the average frequency of digital health consumer activities
Last week, Parks Associates released an infographic illustrating the top digital health consumer activities of U.S. broadband consumers over the past 12 months. Based on the key findings from a survey fielded to heads-of-broadband-households in the U.S. in Q4 2013, the survey found:
– 38 percent of consumers looking up health information online
– 22 percent of consumers are using a device to track their health patterns
After Matthew Holt at Health 2.0 expressed concerns that their figures stated above were too low in comparison to Pew Research's Health Online 2013 report finding of 72 percent of consumers looking up health information online, Parks Associates decided to drill down a little further to provide more context behind their survey methodology.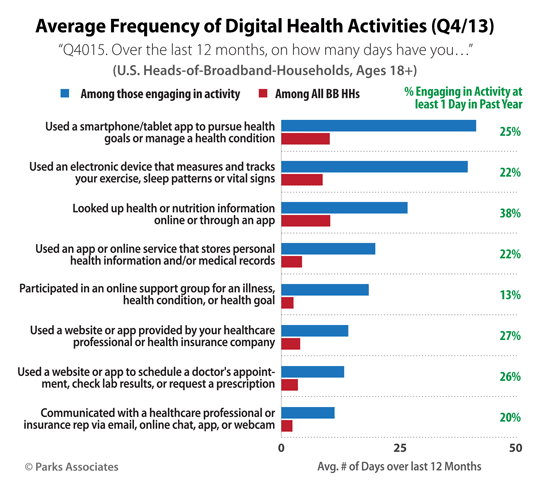 Pew Research vs Park Associates Findings
In their response, Jennifer Kent stated: "our survey found that, of the digital health activities tested, consumers most frequently use their health apps, use their tracking devices, and look up health information online or through apps. Activities that involved care providers and health insurers are far less frequent, which makes sense given these interactions are more episodic in nature."
Park Associates provided the following two reasons why their figure is much lower than Pew Research's report:
– The question breaks out into different "activities" some of the information areas that the Pew study incorporates into one figure – for instance, Parks Associates separates the action of visiting a care provider or health insurer's website into its own option.
– Parks Associates asks respondents to specify the number of days on which an activity was performed in the past year. This question form requires a bit more commitment from respondents than a basic yes/no question in that it requires respondents to not only think about whether they did an activity, but how often.
Parks Associates did conclude that the actual percentage of U.S. consumers who look up a broad range of health information online to be likely higher than 38% based on these considerations.