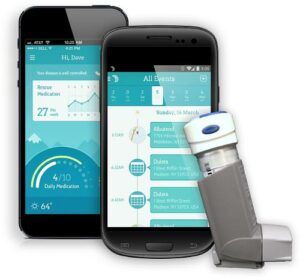 Propeller Health (formerly Asthmapolis), the FDA-cleared digital health solution for chronic respiratory disease, and Arizona Care Network, a physician and health system collaboration, jointly announced today that ACN will be the first Accountable Care Organization (ACO) to offer the Propeller platform to its members with chronic obstructive pulmonary disease (COPD). Arizona Care Network was formed through collaboration between two of the state's largest health care organizations, Dignity Health and Abrazo Health (Tenet).
"As an integrated health care delivery network, we are always seeking innovative, evidence- and value-based programs like Propeller that both improve the health and quality of life of our patients and the efficiency of the care we deliver," said Mark Stephan, MD, Medical Director of Arizona Care Network. "Propeller supports our efforts to provide a more personalized health care experience for our members by enabling us to more effectively sustain and care for patients with COPD in their homes and in the community. It will create new opportunities for us to intervene with patients who may be worsening and heading to a severe exacerbation."
Propeller is a digital therapeutic designed to help patients and their physicians better understand and control COPD, asthma and other respiratory disease to reduce preventable emergency room visits, hospitalizations and unnecessary suffering. With a novel combination of sensors, mobile apps, analytics and personalized feedback, the system encourages adherence to maintenance therapy and remotely monitors use of rescue medications to predict exacerbations and facilitate early intervention by care teams.
"COPD is the third leading cause of death in the United States. We're honored to partner with Arizona Care Network in our first commercial deployment of Propeller for COPD in an ACO," said David Van Sickle, CEO of Propeller Health. "We look forward to supporting Arizona Care Network physicians and staff in their work to better manage patients with COPD,prevent avoidable hospitalizations, reduce readmission ratesand ER visits while achieving better health outcomes."